Description:
Vienne France Geography
Vienne represents the northeastern quarter of Poitou Charentes, bordering the Deux Sevres to the west, the Charente to the south and Haute Vienne (Limousin) to the southeast.  Indre (Centre) is situated to the east, and to the north is Indre et Loire (Pays de la Loire).  The department consists of three administrative boroughs (Arrondissements), Poitiers in the center, Montmorillon in the south and Chatelleraultin the north.  The terrain is considered a patchwork of influences from surrounding areas, Angevin to the north, Berrichon to the east, Limousin to the south, and Gatinois to the west.
Vienne France Transport
All of the main arterial routes pass by the capital Poitiers.  The A10 motorway [toll road] that runs from Paris to Bordeaux links Poitiers to the major towns of Niort and Saintes towards the south, and with Chatellerault and Tours to the north.  The N10 (part motorway) follows a similar path northwards from Poitiers, but to the south, it connects to Bordeaux via Angouleme.  The N147 connects Poitiers with Lussac les Chateaux in the south and with Loudun in the north, and the N149 connects Poitiers with Parthenay in the west.  The main route eastwards is the N151 towards Chauvigny.
The TGV stops at three destinations in Vienne.  Poitiers has access to routes between La Rochelle and Paris (Montparnasse), as well as the services between Lille (Europe), Paris (Charles de Gaulle), and Bordeaux (St Jean).  Futuroscope has its own TGV station, as does the sub-prefecture of Chatellerault, and both of these stations link with Paris (Montparnasse).
Vienne has an airport at Poitiers Biard, and this offers a limited choice of services to the UK, with reduced services in winter.  The airport also hosts holiday charter flights during the summer.
Vienne France Climate
The central belt of the department is within a zone that receives between 2000 and 2250 hours of sunshine per year, with northern and southeastern areas receiving between 1750 and 2000 hours.  As with other inland areas of the region, the climate is temperate with clearly defined seasons, with traditionally warm (occasionally hot) summers and cool (but not excessively cold) winters.  Vienne is probably the driest part of the Poitou Charentes region, with the northern plains receiving the least rainfall and the southwest receiving the most.
 Vienne France tourist information
Vienne has not traditionally been geared up for tourism, but the local administration recognized the importance of tourism to the economy with the launch of Futuroscope in 1987.  The high-tech theme park on the outskirts of Poitiers has since received 30m visitors and continues to be the flagship attraction for the department (and the region).  It would be wrong, however, to assume that Futuroscope is the only thing that Vienne has to offer.
The department has a rich history, with a number of archaeological sites such as the Grotte de la Marche (Lussac les Chateaux), Roc aux Sorciers (Angles sur l'Anglin) and the Gue de Sciaux archaeological dig ongoing at Antigny.  There are many medieval churches and buildings, with the Eglise St Hilaire le Grand (Poitiers) and the Abbey of Saint-Savin on the coveted UNESCO World Heritage list, and there are many examples of medieval fortresses (some ruins), such as that at Angles sur l'Anglin.
Where Vienne excels is in providing outdoor activities.  There are lakes, rivers, forests, and gardens all to be explored, offering a variety of activities such as bungee jumping, canoeing, climbing, fishing, 4×4 off-road driving, swimming and more.  There are many beautiful gardens, such as the Parc de Blossac (Poitiers), the Promenade de Blossac (Lusignan) and the Parc de la Belle at Civray.
The department has a number of animal parks such as La Vallee des Singes (monkey park), L'Isle aux Serpents (snakes island), the free Parc Bois de St Pierre (St Benoit), and the newly opened Planete des Crocodiles at Civaux, as well as Deer Valley at Availles Limouzine.
 Vienne France Culinary Heritage
Two Vienne specialties are Farci Poitevin (cabbage leaves stuffed with spinach, bacon, eggs, green garlic, and fresh cream), and Le Gateau Broye (a galette type of biscuit made with Charente butter).  Another perhaps lesser known recipe is for Mijet, a kind of soup.  Small pieces of bread are added to a bowl of red wine, a small amount of sugar, and some ice and a little water.  This dish is popular as an afternoon thirst quencher on a hot day.  The town of Montmorillon is also famous for its macaroon biscuits.
When it comes to culinary heritage, Vienne, France has a rich and vibrant history that will tantalize your taste buds. Located in the Rhône-Alpes region, this charming city is renowned for its gastronomic delights. As you wander through the streets, you'll encounter a plethora of traditional Viennoiseries, pastries, and baked goods that are sure to satisfy any sweet tooth.
One of the iconic treats you must indulge in is the "Galette des Rois" or King's Cake. This delectable pastry is traditionally enjoyed during the festival of Epiphany. Made with layers of puff pastry filled with almond cream, it often contains a hidden figurine. The person who finds it in their slice is crowned as king or queen for the day – a delightful and whimsical tradition that adds to the charm of Vienne.
Another must-try specialty in Vienne is the "Pognes," a type of sweet brioche bread. With its unique shape and fluffy texture, it is often flavored with orange blossom water or flower water. Pognes have been a staple of Vienne's culinary scene for centuries and are beloved by locals and visitors alike.
If you prefer savory dishes, you're in for a treat in Vienne. The city is famous for its rich and flavorful sausages such as "Andouillette" and "Cervelas." These sausages are made with a blend of pork, beef, and various herbs, resulting in a distinctively delicious taste that pairs perfectly with local wines.
In addition to its mouthwatering pastries and sausages, Vienne also offers a range of fresh produce that reflects the region's agricultural heritage. Farmers' markets are scattered throughout the city, brimming with vibrant fruits, vegetables, and aromatic herbs. Here, you can sample local cheeses, olives, and honey, each with its own unique flavor profile.
To truly immerse yourself in the culinary heritage of Vienne, don't forget to pair your meals with the region's world-renowned wines. Vienne is nestled in the heart of the Rhône Valley, which is famous for producing exceptional reds, whites, and rosés. Whether you prefer a full-bodied Syrah or a crisp Viognier, the local vineyards will surely have something to delight your palate.
So, as you explore Vienne and its culinary delights, be sure to savor each bite and raise a glass in appreciation of the city's rich gastronomic heritage. From delicate pastries to robust sausages and delightful wines, Vienne has something to please every food lover's palate. Bon appétit!
Vienne France Economy
Vienne has no real industrial traditions and the main hub of the department Poitiers hosts diverse industries, with big players such as SAFT (batteries), SAT (telecoms), Schlumberger (meters), Michelin (tyres), Fralib (instant soups), Gorcy (frozen foods) and Dassault Aviation.  The former arms manufacturing center of Chatellerault has been rejuvenated by firms from the car and aeronautical sectors, with the key players such as Thales (Avionics), Valeo Systems (windscreen wipers) and Magret Marelli (Jaeger speedometers).  Montmorillon in the south is more an agricultural landscape, although the biggest firms are SUVIGA (Hyper U supermarket) and COVIMMO (abbatoir).  The nuclear power plant at Civaux has brought important benefits for the borough, as have the influx of British residents, particularly around the Civray area.
Vienne France Keys Stats
As with the whole of the Poitou Charentes region, Vienne has a bigger proportion of older people (23% of the population is under 20 years, and 23% is over 60 years).  There are more females than males here (48.51% vs 51.49), and this is in line with the national picture.  5.85% of homes here are classed as second homes (lower than the national average 10.1%).
Water Center – Vienne France
Sport and Leisure Pool
Giant Slide
External beaches and sun loungers.
Vienne France Activities:
Vienne France Space Balnéo
Water area with:
hydro-massing baths
saunas
Hammam
jacuzzis
(over 18's only)
Bowling – Vienne France
Bowling 8 tracks
bar/snack bar
disco music-bowling.
It is possible to have birthdays parties here also
Reservation: 05.49.48.83 .20
Deep Water Diving – Vienne France
One of the very rare artificial sites in France.
The pool near to 5m wide and 20m deep
classroom equipped
station of inflation
cloakrooms
handicapped access
equipment provided (bottles, pressure reducers, PMT, waistcoats, combinations…)
Description:
Address:
3 rue Clement Krebs
86100 Chatellerault
0549 21 09 40
0549 23 28 85
Normal opening:
Tuesday – from 20h30
Wednesday – 14h to 17h
Friday – from 21h
Saturday – 14h to 17h30, from 20h30
Sunday – 14h to 17h30
School Holidays:
Monday to Friday – 14h to 17h
Saturday – 14h to 17h30, 20h30 to 23h
Sunday – 14h to 17h30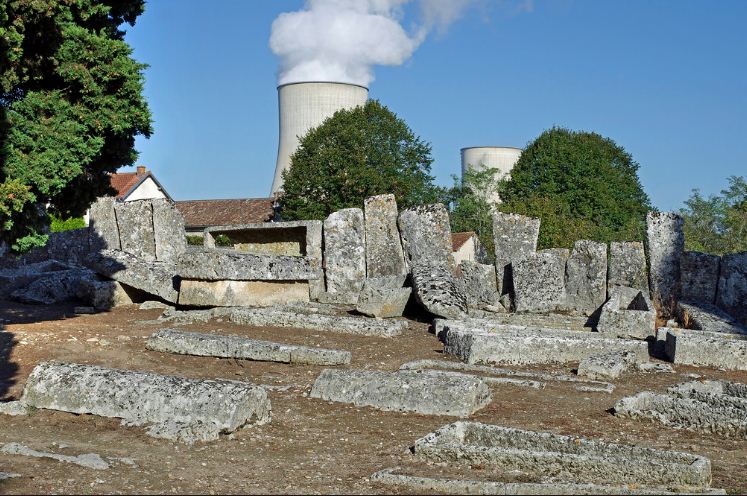 Civaux, Vienne Geography and Transport
Civaux is a village situated on the Vienne River at an altitude of 67m to 149m.  The commune area measures 26.39km2.  The village is off the N147 (Limoges – Poitiers), reached by the D749 that runs parallel along the Vienne River between Lussac les Chateaux and Chauvigny.  The nearest rail link is 8km away at Lussac les Chateaux, with access to the TER regional network.  Poitiers Biard is the nearest commercial airport (38km) offering seasonal services to the UK, but the airport at Limoges Bellegarde (Haute Vienne) offers a bigger range of services year-round (98km).
Civaux, Vienne Climate
The climate here is temperate with clearly defined seasons.  Average summer temperatures are between 23C to 26C (11C-13C night), and in winter this drops to 8C to 9C (2C to 3C night).  The wettest month is October with an average of 54mm, and the driest is March with just 26mm.  Civaux is within an area that receives over 2000 hours of sunshine per year.
Tourism In Civaux, Vienne
For a village of fewer than 900 people, Civaux is the surprise host of some large and important attractions.  Whilst Civaux is probably most defined by the huge twin cooling towers of the last nuclear power plant to be built in France (introduced in 1997), the immediate area next to the plant is home to some key facilities and attractions.  The Complexe multi-activities Abyssea is an aquatic center, with a number of pools, including a scuba diving facility and fitness facilities with sauna, hammam, and Jacuzzi.
The complex also houses a ten-pin bowling alley, and there is a caravan park immediately next door.  The opposite is the Planet of the Crocodiles, new for 2008 this 20m high glass dome houses 6 pools in a tropical environment, with around 200 animals across a 5,000m2 space.  At the nuclear power plant, EDF energy offers an educational visitor center.
Civaux, Vienne is situated on the edge of the Forest of Lussac, an important area containing rare and endangered species of plants.  Many legends surround the necropolis and its several thousand tombs. The Merovingian sarcophagi were probably the resting place for soldiers killed in 507 A.D. during the battle between Clovis and Alaric, king of the Visigoths. foundations.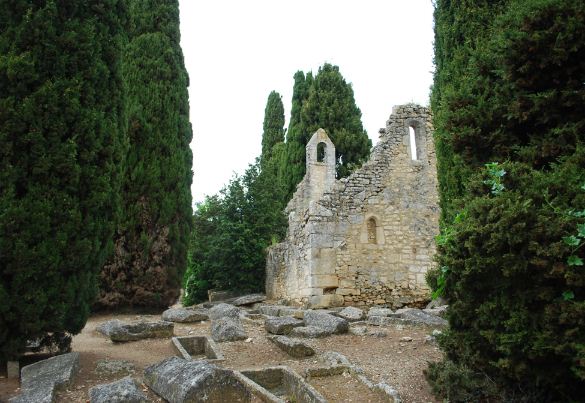 Civaux, Vienne Facilities
Civaux has basic shopping facilities, but for a bigger supermarket Lussac les Chateaux is the nearest at 8km.
Civaux, Vienne Economy
Civaux is part of the Montorillon economic zone which has an unemployment rate of 6.7%, compared against the regional rate of 8.6% and the national rate of 9.1% (INSEE 2006).
Education In Civaux, Vienne
There is a state Nursery/Primary School in Civaux, but the nearest High school (College) is at Lussac les Chateaux.  Colleges (Lycee) are available in nearby Montmorillon (20km).
Civaux, Vienne Key Stats
72.6% of properties here are classed as primary residences, with9.1% classed as second homes.  There are more males than females resident here (51.6% vs 48.4%). There are more people aged 60 or over than the national average (29.1% vs 21.3%), and there are more retired people here also (23.1% vs 18.2%).  22% of the population is below the age of 19.
Civaux, Vienne Key Facilities, and Services:
| | | |
| --- | --- | --- |
| General Store | Hairdresser | Post Office |
| Baker | Bank | Swimming Pool |
| Cafe/Tabac | Pharmacy | Library |
| Restaurants | | |