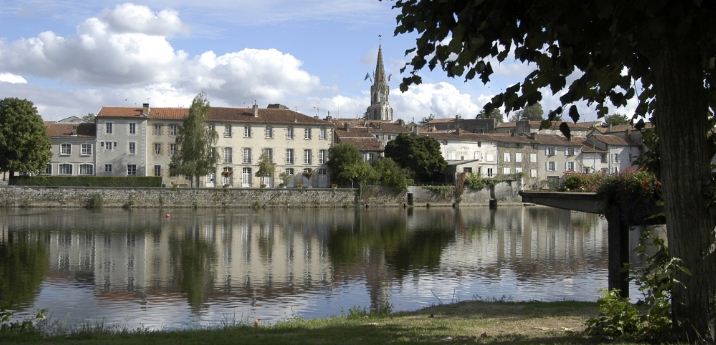 Confolens France Geography and Transport
Confolens is a town covering 18.96km2 situated in the extreme North East of the Charente Department (altitude 127m-222m), within proximity of towns at Bellac, St Junien and Rochechouart (all in Haute Vienne).  There is no rail link here, but the regional railway (TER) stops at Roumazieres-Loubert, 17km away.  There is a twice-daily bus service to Angouleme, but this can take over 2 hours.  Confolens is at the crossroads of the D948 (which links with the RN141 before St Junien), and the D951 which takes you to Bellac to the East, or joins the RN141 to the South and West towards Angouleme.  Confolens is situated on the picturesque Vienne River at an altitude of 127m to 222m.
Confolens France Climate
The climate here is Maritime, and therefore temperate with 4 clearly defined seasons. June to September are the warmest months, with average daytime temperatures of 20C to 24C (12C to 15C night).  In Winter average temperatures are 7C to 8C (2C to 3C night).  Wettest months are October and November (72mm), and the driest is March with 47mm.

Tourism In Confolens France
The Festival de Confolens has been taking place in this town for over 50 years and is held every year in August.  It is described as a folklore festival, and for 6 days there are numerous shows of traditional dance and music from around the world.  Around 600 artists perform over 6 days, for around 200,000 spectators.  Confolens is a starting point for the Velo-Rail, offering visitors the opportunity to pedal specially created rail-bikes on a disused railway.  The line stretches for 17km to Roumazieres-Loubert, on a scenic route.  The architecture here includes Pont Vieux, a 13th Century bridge with 10 arches (restored in 17th Century), the Town Hall was built in the 12thCentury, and the Rue du Soleil has some fine examples of 15th and 16th Century timbered houses.
Confolens France Economy
Confolens is the chief town of the arondissement but suffers from relatively poor transport links.  Neighboring towns such as Chasseneuil-sur-Bonnieure, Roumazieres-Loubert, and Chabanais have easier access to Angouleme and Limoges.  The major business in the town is electrical component manufacturer Legrand, with around 200 employees.  Confolens is part of the Haute Charente economic zone, which has an unemployment rate of 7.0%, compared against the regional rate of 8.6% and the national rate of 9.1% (INSEE 2006).
Facilities In Confolens France
There is a sports ground, sports hall and outdoor swimming pool nearby at d´Ansac-sur-Vienne, and the nearest indoor swimming pool is at Chabanais (16km).  On the road towards Saint Germain, there is a Campsite along the right bank of the Vienne River.
Education In Confolens France
There is are 2 state Nurseries, 1 Primary School, 1 High School (College) and a College (lycee).  There is also a private Nursery, Primary and High School Saint Gauthier.
Confolens France Key Stats
Of the properties in Confolens, 86.3% are classed as main homes (against national average 83%), and 3.8% are used as second homes (fewer than the national average of 10.1%).  There are fewer males than females resident here (54.2% vs 45.8%), and 32.3% of the population is over the age of 60 against the national average of 21.3%, and it follows that the number of retired people resident here is also higher (28.4% vs 18.2%), and 19.1% are under 19.
Key Facilities and Services In Confolens France
Supermarket
Post Office
Library
Baker
Hairdresser
Dentist
Cafe
Bank
Doctor
Bar/Tabac
Cinema
Restaurant
Hardware Store
Pharmacy
Butcher
Know Confolens France better than we do? Leave a comment below.