2023 AirFrance Airline Premium Economy Review – New cap on long-haul flights! The Premium Economy class has become a lot more popular in the last 10 years. A new offer to consider whether for your business or leisure trips and experience the Bleisure travel…
If you're planning a long-haul flight with Air France and looking for an elevated flying experience, premium economy could be the way to go. With extra legroom, wider seats, and a more personal onboard experience, flying premium economy can make all the difference in your journey.
In this review, we'll take a closer look at Air France's premium economy offering in 2023 and what it has in store for travelers seeking comfort and style when flying. Whether you're a frequent flyer or embarking on your first long-haul flight, read on to find out everything you need to know about Air France's premium economy class experience.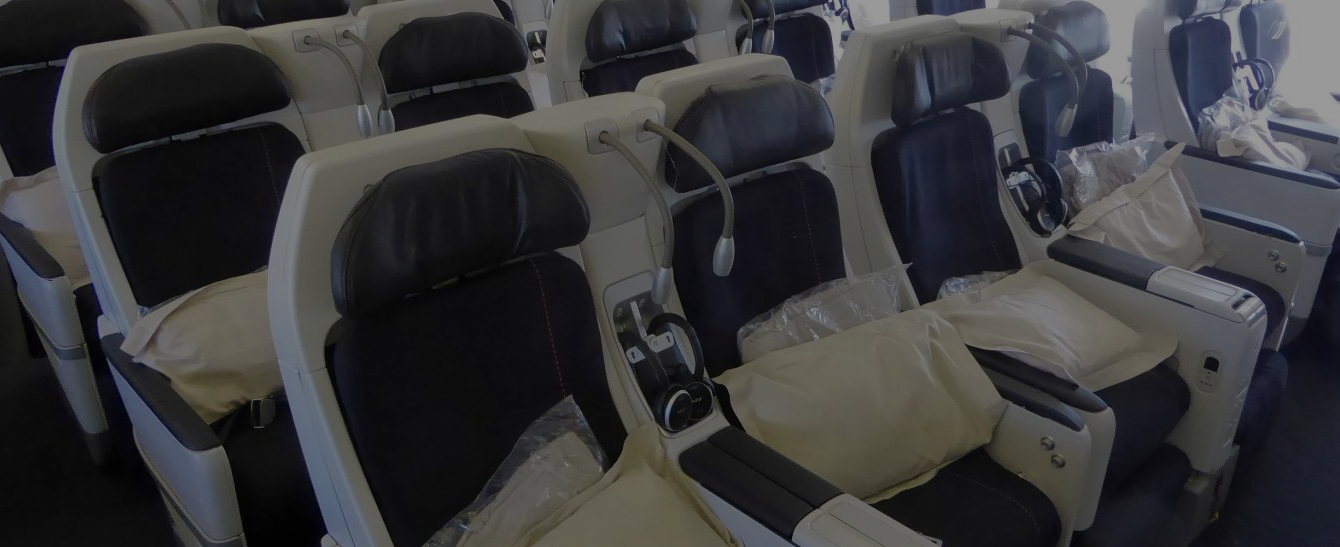 Air France Premium Economy Review
Air France, British Airways, Singapore Airlines or Lufthansa, and Delta have now made a place in their aircraft. Positioned between the traditional Eco class (Economy) and the Business class (Business), the Premium Economy is a primary offer of large companies.
It attracts a part of their Eco customer who is looking for more comfort and is ready to pay the extra cash and the customers of companies who wish to reduce the travel budgets of their employees while maintaining comfort for their employees-travelers.
For airline companies, the Premium Economy allows going upmarket, improving the income per passenger, and differentiating itself from the companies which propose a unique class that it is in low-cost (Norwegian, French Blue) or in "low-high fare "(such as La Compagnie," ancestor "of L'Avion which was taken over by British Airways under the brand name OpenSkies) but also companies that stayed with the classic duo (Business / Eco) by offering this new innovative intermediary offer.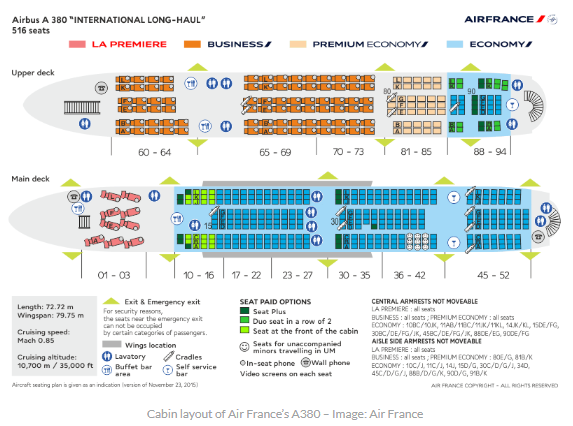 What About Air France Airline Upper Class 
Air France airline's upper-class service is highly recommended for anyone looking for an exceptional flying experience. The level of luxury and comfort provided by Air France is second to none. The airline's management expertise is evident in its attention to detail, and its focus on ensuring customer satisfaction. From their well-trained staff to their state-of-the-art planes, Air France offers a truly premium experience.
The airline's commitment to providing a sustainable and eco-friendly environment is also impressive. Air France's collaboration with the Scientific Committee for Environmental Problems and the Scientific Information Centre demonstrates its dedication to protecting the planet.
As evidenced by the percentage of total expenditure on research and development provided by businesses as a share of GDP during the period from 2005, Air France shows its commitment to innovation and continuous improvement.
Overall, air France is a reliable and trustworthy airline. Their services extend beyond just providing flights; they offer management contracts to small aviation establishments in developing countries. This extends their reach beyond France and allows for more people to experience the Air France difference.
Is Air France Premium Economy Worth It ?
Source: samchui.com
Is Air France Premium Economy Worth It ? Air France's Premium Economy product is definitely worth the added cost. With roomier seats compared to Economy class, passengers can enjoy more comfort for their long-haul flights. The agile meal service and exclusive snack and beverage options are also welcomed perks.
The extra legroom and width make this choice a no-brainer for those looking for a more comfortable flying experience. Although the seats may not be the most comfortable for sleeping, the overall value is still a great bargain.
With the new Premium Economy offering additional comfort at affordable prices, this option is perfect for those looking for a little more luxury without the huge price tag. All in all, Air France's Premium Economy is certainly worth considering.
Air France Premium Economy Review
As we look towards the future, Air France promises an exceptional experience for their premium economy passengers in 2023. With state-of-the-art features and new amenities, Air France is revamping its premium economy class to provide a comfortable and luxurious experience for its customers.
From upgraded seating arrangements to improved in-flight entertainment options and exclusive lounge access, this Air France Premium Economy review looks at what lies ahead for passengers traveling with the airline. Let's dive in and see what's in store for those who opt to fly with Air France's revamped premium economy class in 2023.
Overall, the insignificant increase in the expense (approximately $200) was well worth the convenience and increased legroom. I've introduced plenty of the amenities below as well as un-retouched pics from my trip on Air France Premium Economy class flight so that you can see for yourself precisely what the upgrade includes.
The Air France Premium Economy is characterized by three elements: a separate cabin, a comfy seat and exclusive services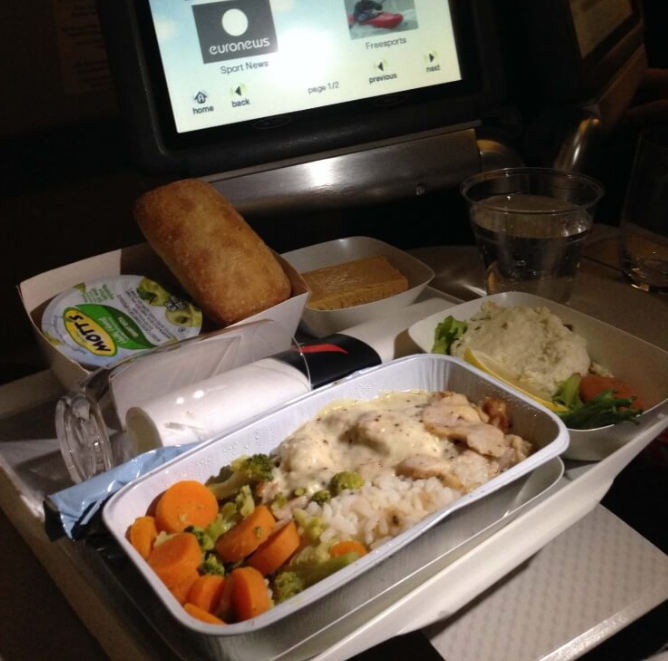 Air France Premium Economy Review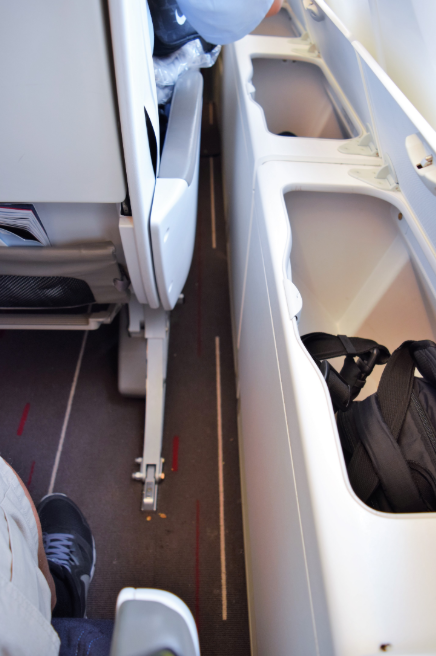 Having spent a decent amount of extra fare to upgrade to the Franc Air Premium Economy, I presumed my seat to be (for lack of a better expression) more premium edition of economy, but I was pleasingly amazed when I found out that the seat (and the overall flight) was much similar to flying Business class on a domestic flight.
Seats were organized in a 2-4-2 arrangement, so having seat 11L indicated that I had only one passenger next to me, and I had a delightful view out the window just beside the wing.
Seats also offer plenty of legroom to stretch even for tall people. Additionally, the extra-large tray table provided me with more than enough space to set up my laptop and get my work done on board, all while savoring a glass of Evian and going through the onboard entertainment program.
That comfy seat, unfortunately, didn't go back as far as I would have wanted. However, I'd take it over a standard economy seat any day of the week.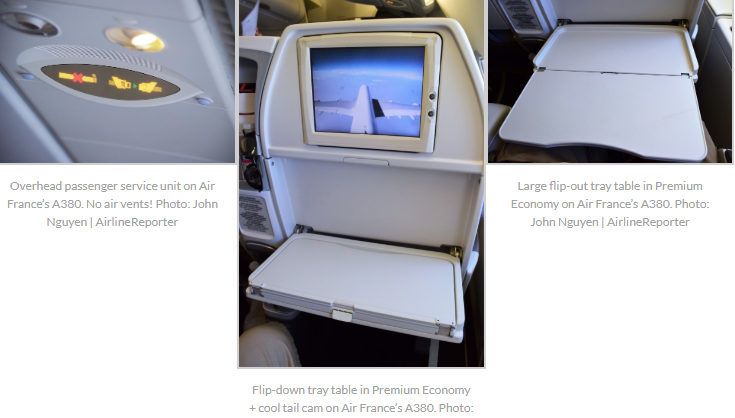 Food, Meals, and Amenities
No question– premium economy gets much agile meal service than regular economy class on Air France, also it offers a premium economy-only beverage and snack counter (very convenient).
The small minibar space has plenty of juices, beers, sodas, and snacks for the span of the flight. Upon opening the bathroom door I was again pretty astounded to discover what was attached to the wall such as the Clarins skincare products including a toner, moisturizer, and even pads to use the mentioned products.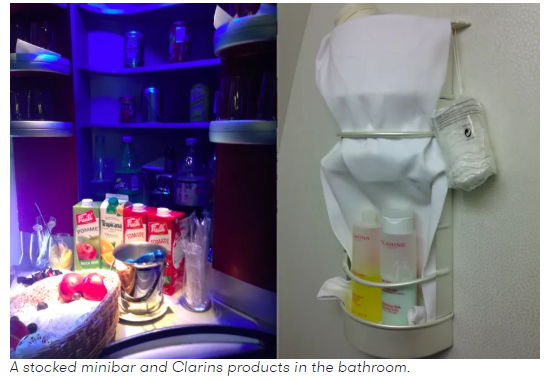 Soon after takeoff and once we entered altitude, the cheerful flight crew appeared through the premium economy rows and handed us the amenity kits, which was a good surprise. The container was modest with the regular socks, eye-mask, toothbrush, earplugs, and "caps" to cover the headphones that are attached to each seat.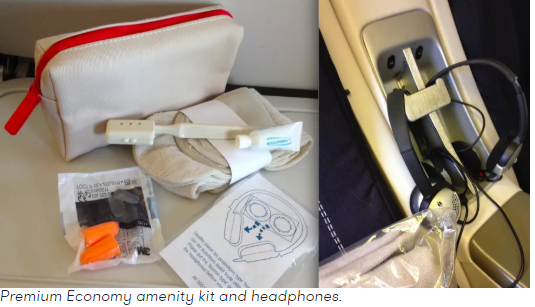 As I was having a look through the menu, I was immediately offered a glassful of champagne and some rosemary saltines.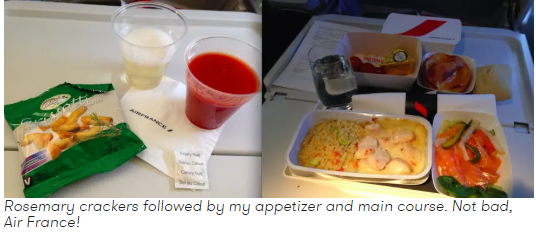 After serving the main meal I've ordered which was delicious by the way, I was presented a small plastic coronet packed with tiny sweets, such as a stick of Valrhona chocolate, a slice of nougat and fruit jellies from famed patisserie Fauchon as well as a wet fragrant napkin.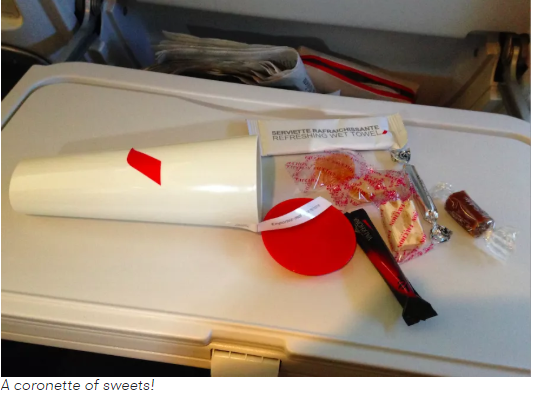 As the flight was more than 8 hours long, a subsequent meal was served minutes before landing, it included of a cup of yogurt, a soft roll, some more cheese (of course), orange juice, and biscuits.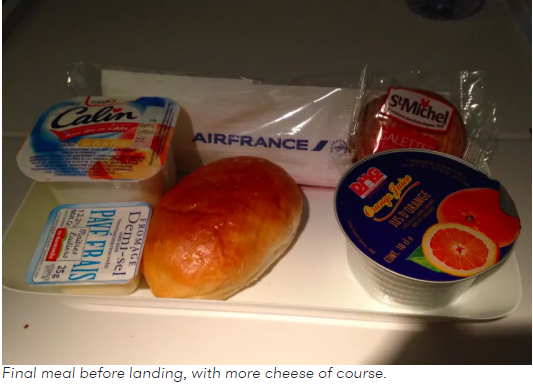 Air France infotainment screens in premium economy class are moderately properly sized, still, the system is dated and the resolution poor. Shockingly, there is no Wi-Fi on any long-haul Air France flight.

Air France Business Class LAX to Paris –  Is It Worth It
Bonjour, fellow luxury travel enthusiasts! Are you ready to immerse yourself in an experience that is quintessentially French and undeniably indulgent? Well, fasten your seat belts and prepare your taste buds, for we are about to embark on a virtual journey from the City of Angels to the City of Lights, experiencing the crème de la crème of air travel. In this blog post, we will familiarize you with the exceptional services and exquisite offerings that only Air France's Business Class can provide on your next trip from Los Angeles (LAX) to the ever-enchanting Paris. Ensconced in unparalleled comfort, you will traverse the Atlantic in enviable style as you delve into the magical world of French luxury, haute cuisine, and flawless service that remains virtually unmatched. So, without further ado, let us embark on this très chic and magnifique adventure, and discover why Air France's Business Class continues to reign supreme in the world of luxury aviation.
1. LAX Terminal Chaos: Air France Check-In
The Air France check-in experience at LAX's Tom Bradley International Terminal, unfortunately, fell short due to the lack of staffing. With only four counters open for all departing passengers, check-in took over 30 minutes even in the Sky Priority lane. However, business/first-class passengers can use the dedicated lanes to the left of the terminal for faster clearance if they have CLEAR or TSA Pre. While Air France does not have a lounge, they contract with the oneworld Lounge. However, it is located in the new West Gates area, which is at least 15 minutes walk from the main TBIT terminal, and services are limited in the area.
2. A Better Lounge Experience Than Expected
Air France surprised with a better lounge experience than expected. The shared British Airways-Qantas-Cathay Pacific Oneworld Business Class Lounge, located inside LAX's Tom Bradley International Terminal, provided a range of amenities and private areas to relax and unwind before the flight. The lounge's food offering was great, with many hot meal options to choose from. Air France actually received complaints about the Korean Air Lounge, which was their original lounge for premium passengers, and instead contracted service with Oneworld Lounge to provide better services. The aesthetics, the privacy pockets, and the food selection made the lounge stand out from others in the terminal.
3. Boarding Process: Biometric Scanning Weirdness
Air France's boarding process at LAX uses biometric scanning instead of boarding passes, which in theory is a great way to streamline the process. However, in practice it was a bit weird and confusing. With no one checking boarding passes, it became a bit of a free-for-all when boarding was announced for priority passengers. The biometric readers themselves worked well, but it was a bit unsettling for some passengers to have their facial features scanned. Overall, while the concept is innovative, Air France could benefit from having clearer instructions and more staff assistance to ensure a hassle-free boarding process.
4. Seat Review: Air France Boeing 777-300ER
Air France's Boeing 777-300ER business class seats are arranged in a 1-2-1 reverse herringbone layout. According to SeatGuru, each seat offers 21.5 inches of width and 61 inches of pitch. The Safran reverse herringbone seat design provides the most space and privacy for all passengers. In the forward cabin, there are only 16 business class seats, while the rear cabin has 42 seats, making it less intimate and noisier. Each seat offers a large IFE monitor, a USB port, and an electrical outlet to keep devices powered. The IFE monitors are bright and crisp, and the entertainment selection is decent, while WiFi is also provided.
5. Cabin Configuration: Forward vs. Rear
Air France's business class cabin on their Boeing 777-200 features two sections: a larger, forward cabin with 28 seats and a smaller, rear cabin with only 12 seats. While the forward cabin may seem like the obvious choice, the rear cabin offers more seclusion and fewer passengers. The seats in both cabins are the same, with a comfortable and well-maintained reverse herringbone configuration. The partition between the center seats in the last row of the rear cabin can be removed for added privacy, making it a great spot for couples or solo travelers who want to avoid foot traffic. Ultimately, the choice between the forward and rear cabins comes down to personal preference and availability.
6. In-Flight Entertainment and Wi-Fi
Passengers flying Air France Business Class will be pleased to know that the airline offers in-flight Wi-Fi on most of its aircraft, allowing for easy communication and connectivity. Wi-Fi Pass options range from an hour to the duration of the flight, offering flexibility for passengers who wish to work or stay in touch with loved ones. In terms of in-flight entertainment, Air France offers a selection of movies, TV shows, and music to keep passengers entertained throughout the flight. The quality of entertainment varies depending on the aircraft, so it is best to check before boarding. Overall, Air France's in-flight connectivity and entertainment options are commendable.
7. Food and Beverage Service
Air France's food and beverage service in their business class was top-notch. They offered a multi-course meal service with high-quality ingredients and presentation. The menu boasted excellent French cuisine options, including seared tuna and roasted duck breast, complemented by a fine wine list. The cabin attendants were attentive and personable, making sure that the guests had a pleasant dining experience. Additionally, passengers had access to a self-service bar area with a diverse selection of drinks to choose from. Overall, Air France's food and beverage service exceeded expectations and elevated the flying experience to a whole new level of luxury and sophistication.
8. Delayed Departure: Was it Worth the Wait?
Despite experiencing a delayed departure, the Air France Business Class service remains worth the wait. The airline's comfortable seating arrangement, attentive cabin staff, and top-notch entertainment options compensate for any delay in departure. Furthermore, the airline's free messaging service and wifi accessibility are significant advantages for business travelers. Although the wait may be a hassle, Air France's commitment to maintaining a high level of service makes up for any inconvenience caused by late departures. Additionally, the airline's welcoming lounge services, including the impending construction of its lounge at the TBIT West Gates area, make for a pleasant overall experience even with a delayed departure.
9. Airbus A380 vs. Boeing 777-300ER: Which to Choose
Air France operates both the Airbus A380 and Boeing 777-300ER on its nonstop flights between Los Angeles and Paris. For travelers seeking a more comfortable flight, the Boeing 777-300ER is the better choice as it features Air France's new lie-flat Business Class product. Unfortunately, the Airbus A380 offers an angled-Business Class product that may not be as comfortable. In terms of design, the Boeing 777-300ER is a handsome plane with its elongated fuselage and twin mega-engines. At their seat, passengers receive amenities such as slippers, pillows, blankets, coat hangers, amenity kits, and menus. Overall, the Boeing 777-300ER provides a more comfortable and stylish travel experience.
10. Overall Verdict: Is Air France Business Class Worth It?
Overall, is Air France Business Class worth the price? The answer may depend on individual preferences. The airline offers a modern and aesthetically pleasing lounge at Heathrow Terminal 4, but lacks the luxury of a champagne bar. The in-flight entertainment selection boasts 1,200 hours, but a significant amount is in French. The newly-installed lie-flat Business Class seat on the Boeing 777-300ER offers a comfortable ride, while the angled Business Class seats on the A380 may disappoint. The shared Oneworld Business Class lounge at LAX adds to the value of the flight experience. Air France Business Class may be worth it for those seeking convenience and comfort.
At The End
Overall, I was very satisfied with the conveniences and services rendered by Air France in their Premium Economy class. As it costs more than regular Economy yet much less than Business class, it can be such an excellent deal- even though Air France does levy some bothersome fuel overcharges.
That being said, if you're searching for a pleasant adventure in a fold-out seat, which you're not going to get in such class but given that Business class ticket on Air France is for$4,700 one way and First class ticket is for $8,900 one-way, you'll soon realize that Premium Economy is indeed an excellent value for your money and overall remarkably pleasant experience- at least balanced with most US carriers offering premium economy upgrade as the same seat as standard economy, only with a slightly more recline and legroom.