Escape To The Chateau De La Motte Husson Glamping & Wedding Prices – For all of you who have always dreamt of trading their tiny city homes for calmer and much bigger houses in the suburbs, this is probably going to one of your favorite TV shows ever. For six series so far, Dick Strawbridge and Angel Adoree have been of the few couples who actually took their vision to the next level.
Many people fancy purchasing a castle and converting it into their dream house – just for one couple, these fantasies became real. Here's all you need to know about Chateau-de-la-Motte Husson in France and the husband and wife duo who transformed it into such a dream wedding and holiday destination for thousands of people all over the world…
And now with their brand new series currently airing on the British Channel 4, what more can we await?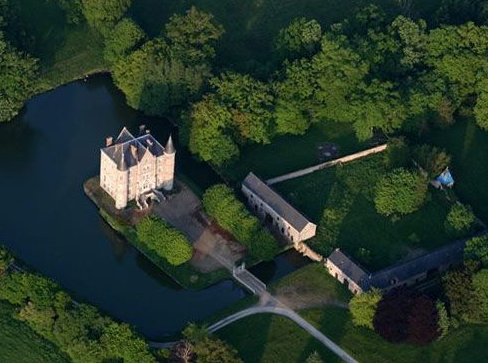 Château de la Motte-Husson
The Château de la Motte-Husson is a neo-Renaissance style castle. It is established in the petite town of Martigné-Sur-Mayenne, in the province of Mayenne in France. The palace is now owned by Dick Strawbridge and his wife Angela. It is the set where the Escape to the Chateau channel 4 program is filmed.
Also Don't Forget To Check Out This: Hotel Chateau Du Grand Luce Loire Valley
History
Henri de Husson acquired land in a concession from Jeanne "La Voyère d'Aron" in 1394. The Husson family, princes of Montgiroux of 1406, gave their  title to Château de la Motte-Husson or Castle of the Husson
The Baglion de la Dufferie (the French branch of the Baglioni family from Perugia) purchased the estate in 1600. The chateau was then rebuilt within the walls of the ancient square channel. It included a kitchen, a basement, 4 or 5 bedrooms on each floor, a loft upstairs, a chapel, a gate with a drawbridge (which is a moveable bridge at the entrance), a bedroom on the aforementioned gate, a bathroom, in total, coated with slate.
Behind a small garden, trenches, and canals around the yards. In 1824, legacy documents recorded that the buildings, called the "Château de la Motte," were still unimpaired, with the moats encircling the fortress.
The present façade reflects the works of Countess Louise-Dorothée de Baglion de la Dufferie (1826-1902), who asked her husband for a large house at the fort's site. The new building had been surrounded by two large towers, known as "peppercorn grinder", a five-story double staircase, and 47 chambers with separate individual suites for the master and the lady, with the second floor functioning as a servants area in addition to a spacious attic on the above floor.
The castle is environed by an old moat, with an enclosed backyard, a barn, an orange shed, and 12 hectares of fields. The initial plans and bills of the house are still available for guests to view when visiting the chateau. Amazingly the first building cost approximately £1m.
Escape To The Chateau De La Motte Husson DIY
Escape to the Château DIY New Series Returned on Chanel 4. Episode 1 was aired on Sunday, November 15, 2020
Dick and Angel have returned for a new series of the hit show. The series picked up its first episode in the new season on Sunday, November 15th at 9:00 pm on Channel 4.
Dick, Angel, Arthur, Dorothy, and Petale are all back to deliver some immense new levels of invention, impulse, fantasy, venture, and giggles and we'll too watch some frequent show stars and visitors to tell us what's been happening during the period of over lockdown.
Who knows what Christmas will bring us this year after all? We are pleading to be able to enjoy a conventional Christmas holiday with our friends and family but unfortunately, this may seem unlikely after what all the world is going through.
So let's all Escape to the Chateau and make every Sunday a cozy evening to enjoy indoor!
Escape To The Chateau Episode 1
Lieutenant colonel Dick Strawbridge and his spouse Angel Adoree interchange their English home for a decaying, 19th-century French chateau. The partners struggle to rebuild, refurbish and refresh the property into a fairytale palace for their expected wedding.
Show enthusiasts overwhelmed dick and angel with lots of praise as everybody was thrilled to watch the new episodes. Dick and his lovely wife Angel are as always renovating the remarkable 19th-century Château de la Motte-Husson in Martigné-Sur-Mayenne, France.
Talking about the Escape To The Chateau Episode 1  of the new series, one person wrote: "This is just incredible. The mansion still exhibiting its unique antiquity. I constantly discover innovative DIY staff just by watching the show." Another fan added: "I enjoyed Angel's responses to the treasures she discovered, I completely understand such reactions, it's wonderful that you're both sanctifying the house past yet creating such an enchanting home for your kids to grow up in."
The couple continue restoring the 19th century Château de la Motte-Husson
While discussing the show, Dick lately said: "Arthur and Dorothy have their own plans now. Arthur wants to build a restaurant in the design of an antique orangery. He's a real foodie and he's starting his own brand," adds Angel.
"Dorothy wants a private shed to be built outside, which will be very stylish and up-to-date. She gave me the right to babysit  her future two children."
Chateau De La Motte Husson Glamping & Wedding Prices
It's wintertime at the chateau and the spring of the Strawbridge group's fifth season enjoying the French landscapes. With more matrimonies and holidays scheduled than ever, Dick and Angel plan for their liveliest year to come.
To serve more than 1,500 visitors, Dick and Angel start redecorating the rear of the cellar, constructing a whole-new contemporary kitchen for the special occasions booked in the magnificent castle. Dick though encountered a difficult pipe problem and left the pantry design hurdle for Angel. All those challenges are to be dealt with throughout the new shooted episodes of the 5th season of the series.
Except it's not only the cellar that requires Dick and Angel's attention, as there's the arrival of the brand-new beehives for the backyard. They are also additionally planning an enchanting birthday bash for their baby girl Dorothy as Dick and Arthur go on a only-boys' experience to shop for kitchen appliances in the city of lights.
Others Are Reading: Escape To The Chateau De La Ruche DIY Series 2019
Where is Chateau-de-la-Motte Husson ?
This 19th-century castle of Chateau-de-la-Motte is in the Pays de la Loire province of France.
Chateau-de-la-Motte Husson, which is highlighted in the TV show known as "Escape to the Château", has 45 rooms, 78 windows, 12 acres, and one moat and is popular for weddings
It is currently occupied by Dick Strawbridge and Angel Adoree, who spent £280,000 when they purchased it in 2015.
At this point, the home had no power, heat, or water – and a sanitation arrangement that was dumped into the channel – yet they have since converted it into a prosperous venture.
Chateau De La Motte Husson Wedding Price
Whether it's a modest private family party or a luxurious celebration, Mr, and Mrs. Dick Strawbridge and Angel Adoree promise that your ceremony will be smooth, and your wedding is going to be like it just came out of a wondrous fairy tale.
Chateau-de-la-Motte Husson is built inside 12 acres of spellbinding parkland.  It features a sumptuous moat, an Art Deco orangery, a walled patio, and various barns and pens, not to discuss the chateau itself, which extends to 5 floors and 45 bedrooms! It is really a surreal surrounding and the romantic backdrop for your perfect vintage wedding.
The dining hall can host 12 people for a sit-down course-tasting food and the Art Deco orangery can host 80 people for a pre-wedding breakfast.
Chateau De La Motte Husson Wedding Cost & Packages –  It costs £5,870 to get the advantage of using the mansion, and it is remarkably attractive nowadays. The chateau has been fully reserved for 2019 so you'll be looking at 2020 if you want to rent it out.
Chateau De La Motte Husson Glamping
Glamping or glamorous and camping just got exciting here at The Chateau with their brand new geodesic Domes to observe the twinkling stars, in total luxury.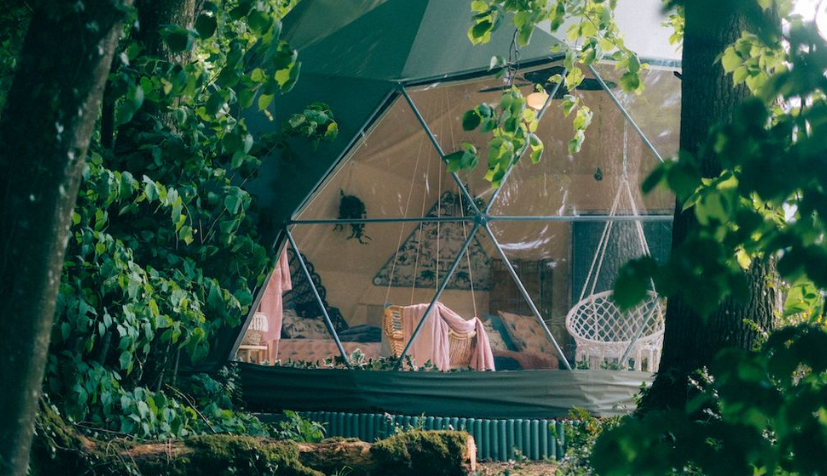 Escape To The Chateau Prices To Stay
Château de la Motte-Husson is the star of a Channel 4 show called Escape to the Château, and who wouldn't want to stay at this stunning property?
While Dick, Angel, their two children and Angel's parents all stay in the castle, the remaining rooms can be rented out. The castle is mainly used for weddings, but there are other options to choose from.
Chateau De La Motte Husson Glamping:
To Escape to Dick And Angels chateau glamping price to stay there are:
The Floating Dome has one double bed and it fairly unrealistic – maximum 2 people – £350 per night

The  Land Dome by the side of the moat (near to the floating dome) has one double bed and two singles – maximum 2 adults and 2 children – £350 per night

Reserving both Domes – maximum 4 adults & 2 children people – at a bargain price of £600 per night
Escape To The Dick And Angels Chateau De La Motte Husson Glamping Dome Price To Stay There Also Include the Following Conveniences:
Your private shower & bathroom booth near both Domes

A wood-burner stove for each Dome

Your separate little out-side kitchenette with gas hob, refrigerator, coffee maker & completely stocked bar.

Your private Barbecue space and outside seat section

A French breakfast for up to 6 people served in your kitchen

A delightful box to welcome  the guests full of many local treats to snack your way throughout your visit

Free access to all the needed fishing gear & bikes

Free access to any of the games room at the Chateau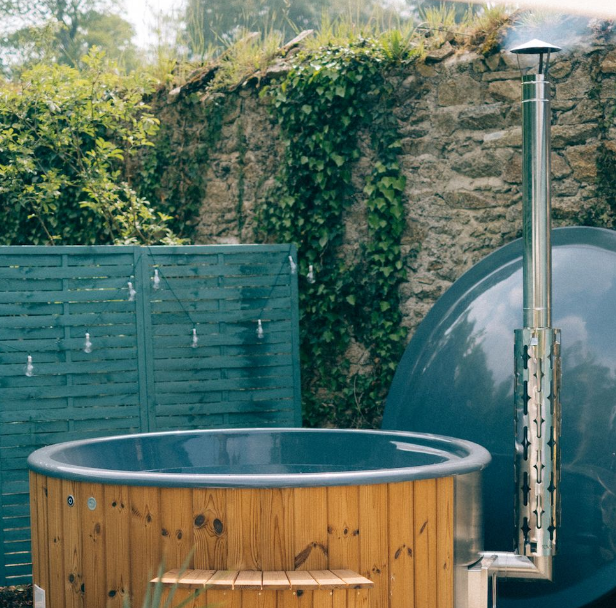 Others Are Reading: French Wedding Traditions And Customs
Helpful information:
Check-in time is 3 pm at The Chateau

Check-out time is midday

You are welcome to stroll the areas, yet not inside the Chateau itself

At times there may be videotaping in the happening (of course not in the Dome area), clearly, respecting the guest's privacy is always a priority.
How much did the Strawbridge couple pay for the chateau in escape to the chateau?
The 19th-century castle is a chateau located in the Pays de la Loire French province. Chateau-de-la-Motte Husson, which is starred in the TV show Escape to the Château, has 45 rooms, 78 windows, 12 acres, and one canal. It is now maintained by Dick Strawbridge and his lovely wife Angel Adoree, who has made a £280,000 deal back in 2015 to buy the property.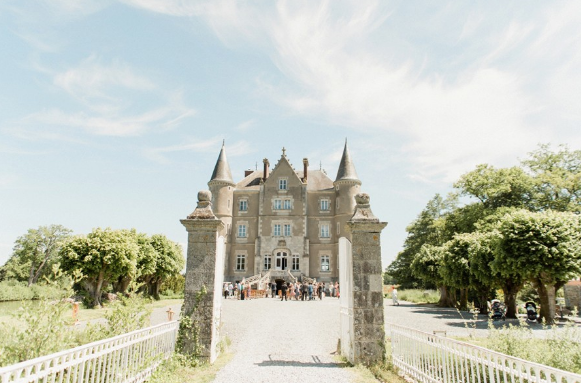 Angel Adoree Wedding
How old is Angel Strawbridge's wife ?

As of 2020, Dick Strawbridge born on 3 September 1959 is now 61 years old and still happily married to the famous businessperson Angel Adoree born on 7 April 1978 who is now 42 years old. And the couple has two adorable children, Arthur (b. 2013) is 7, and Dorothy (b. 2014) is 6.
Angel Adoree Wedding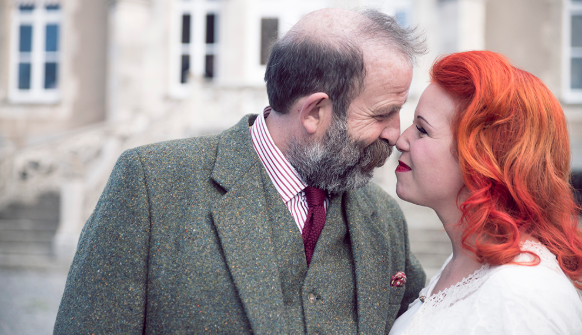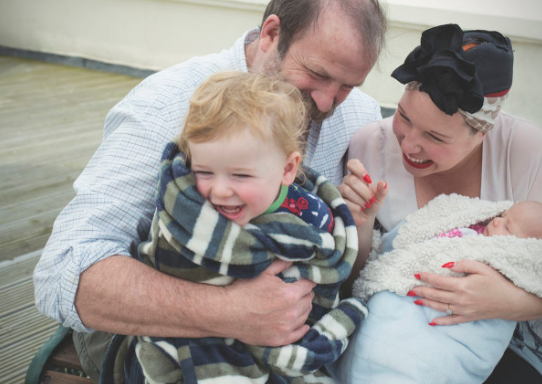 Where does Brigit Strawbridge live?
The BBC unveiled that they live in Malvern and the show was shot at a different place they established on a smallholding in Cornwall, though Brigit, as she told us, is "a Yorkshire lass", born and grew up there and attended at a nunnery institution in Richmond.
What food is Pays de la Loire known for?
From juicy meats organically bred from the vineyards of the region to the delightful dairy products that have found their way into the worldwide table, the menu of Pays de la Loire is bursting in taste and all provided from local sources Although, all the food there is divinely delicious, the most popular of all at Pays de la Loire is the beurre blanc sauce.
Where is the chateau on the British Channel 4 Programme?
Escape to the Chateau is a 19-episode Channel 4 documentary production that tracks the romance of married couple Dick Strawbridge and Angel Adoree and many other side stories of their private life with their business, kids, family, and friends.
The series follows the couple since they first bought the chateau, the continuous and undergoing renovation and improvements of the 18th-century Château de la Motte-Husson.
Traveling From Paris To The Chateau De La Motte Husson
What is the cheapest way to travel from Paris to the Château de la Motte?
The most inexpensive way to arrive from Paris to Château de la Motte is to drive your own or a rental car which costs $35 – $55 for gas and takes 2h 33m.
What is the smartest way from Paris to Château de la Motte?
The swiftest fastest way to get from Paris to Château de la Motte is to take the train as it costs $60 – $110 and takes only 2h 19m.
How far is the Château de la Motte from Paris?
The distance between them is 184 km. The highway distance is 267.1 km.
How can I travel to Château de la Motte from Paris if you don't have a car?
The most reliable way to get from Paris to Château de la Motte if you don't own or have access to a car is to take the train which takes 2h 19m for about  $60 – $110.
How long does it take to travel between Paris to the Château de la Motte?
It usually needs you about 2h 19m to arrive at the Château de la Motte from Paris, including all checkpoints on the road.
Where can I stay near Château de la Motte?
There are 130+ hotels open near the Château de la Motte. The price rates range around USD 100 per night.
Escape to the Chateau star Dick Strawbridge justifies himself after the show's new season aired
Dick Strawbridge stands for himself after the return of Escape to the Chateau on Sunday as a show fan denoted that Dick can't pronounce Quentin's name properly. The fan tweeted: "The Expatriate living in Lozere flinches every time you pronounce Quentin's name as 'Ken-tan' rather than 'Kon-tan'. "
Dick instantly replied to the fan tweet: "Quentin showed me how to say his name on the first day we arrived here and he helped me a lot to improve my French… I apologize to the fans but I actually like mispronouncing his name." Yet, as the fan replied: "I was just kidding! We all like your French."
Who is Escape to the Chateau DIY's Stephanie Jarvis who appeared on the show with Dick and Angel Strawbridge ?
Escape to the Chateau De La Motton Husson is so popular Channel 4 show that it has stirred a number of sub-shows, such as Make Do and Mend and Escape to the Chateau DIY.
Although Dick and Angel Strawbridge are the regular stars of the show, Stephanie Jarvis has also become a familiar face on the DIY version of the show. So who is Stephanie Jarvis? Next, we'll tell you all need to know about her …
Stephanie is a trending online vlogger and interior design professional and now she became a regular star on DIY Escape to Chateau TV. Just like her co-stars, Dick and Angel, this former London-resident decided to leave the UK 15 years ago and purchase a twenty-bedroom mansion that was also built in the 16th century in Crozon-Sur-Vauvre, France with her ex. Stephanie now runs the property as a bed and breakfast and often posts videos and updates from the villa on her social media.
Stephanie left London to purchase a chateau in France
In 2017, Channel 4 contacted Stephanie and her family to participate in the spin-off series that aired later in 2018. Stephanie explained on her website her reaction to the news.
She said, "I found it funny, and I whimfuly agreed to be a part of the show (especially imagine how my mom would be amused!)". "We all assumed that we are only participate in a small part of an unknown show on a much more obscure TV channel, and were startled when we first discovered that this was a sub-series on Channel 4. From the mythical Dick & Angel's" Escape to the Chateau"! "
Escape To The Chateau Website
When you go to the official Escape To The Chateau Website , there are eight options for booking. However, every single option is unavailable and sold out while the couple catches up. The site says that the chateau is booked for weddings until two years from now, so inquiries are closed for the time being.
Chateau De La Motte Husson Booking
The wedding packages are reportedly very expensive, ranging from 19,000 pounds to 38,000 pounds. Get saving if you want to marry at the Chateau! The Chateau can accommodate intimate weddings as well as larger parties, since it includes 12 acres of land, a moat, an orangery (a building where orange fruit trees grow), outbuildings (additional buildings), stables and 45 rooms.
Angel and Dickie Chateau Booking
If you can't rent the whole castle, expect to pay nearly $6,000 for use of the castle and some rooms.
The other packages are no longer available, either. Glamping overnight in a castle dome ranges between $450 and $1,100 per night for a couple or a family. The most affordable option is glamping on the grounds of the castle in domes, but this has not been available since summer 2020.
If you want to visit the castle just to look around and spend the day there without sleeping on the property, the Fun and Festivities package would work best for you. This package usually includes lots of food, drink, and a tour of the castle which normally costs £230 per person.
The Garden Day at the Chateau still includes lots of food and drink, but you will be expected to do some physical work.(£75 per person)
Are the strawbridges selling the chateau?
At this time, Dick and Angel have no plans to sell it, because they worked hard to get it into the perfect condition it is in today. The venue is booked until 2022, so it has kept popularity over the years.