Popularized by a group of the most talented chefs, Kosher cuisine is gaining new ground in Paris. New, hot places where food is cherished, intimate eateries… Overview of the six Best Kosher Restaurants In Paris to visit in 2020.
6 Best Kosher Restaurants In Paris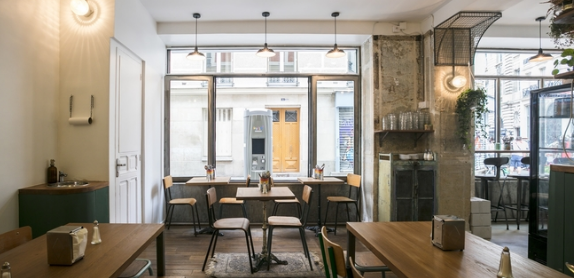 The finest of street food: Chiche
A warm canteen in the heart of the 10th district, Chiche glorifies street food with kosher sauces. Seated on large wooden tables, visitors come to taste a hummus, freshly made upon order, with freshly baked pita bread, also spicy eggplant, roasted cauliflower, juicy beef and lamb chops are their specialities.
29 bis rue du Château d´Eau, 75010 Paris, https://www.chicheparis.fr/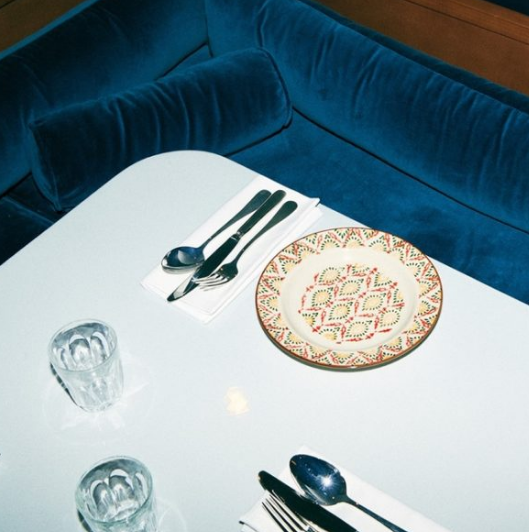 To see and be seen: Balagan
With the talented chefs Assaf Granit and Uri Navon on one side and the trio of the Experimental Group on the other (Romée de Goriainoff, Pierre-Charles Cros and Olivier Bon), Balagan rose in a few months, tops the list of the Best Kosher Restaurants In Paris
With a restaurant name that announces the colour (literally "merry mess" in Hebrew), the place combines pretty small plates with Mediterranean spirits (Cuban bread with tahini, fatoush salad, grilled octopus with coriander…) with such a joyful atmosphere partially sustained by the communicative energy of the open kitchen.
9 Rue d´Alger, 75001 Paris, Tel. 01 40 20 72 14, http://www.balagan-paris.com/fr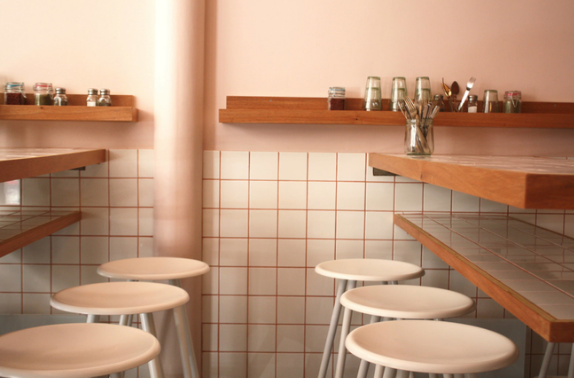 The renowned hummus expert: Yafo
In a candy pink decor, approved by Studio Sur Rue, Yafo calls themselves "the original Parisian hummus deli". Guests find themselves around the popular dish based on chickpeas, accompanied by a multitude of mouth-watering toppings (roasted beets and hazelnuts, eggplant tartare, chicken with herbs) … All cooked up by Chef Lotan Lahmi. Not to mention the dessert menu, featuring fresh kosher pastries such as Muhallebi and tahini shortbread cookies.
96 Rue d´Hauteville, 75010 Paris, https://www.yafo-restaurant.com/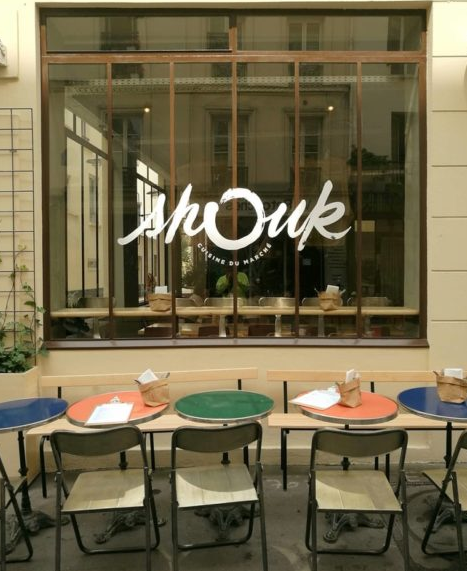 The newcomer: Shouk
After having started working with Miznon and Mulko, Pierre Bouko Levy opened Shouk this summer, on rue de Lancry in Paris. Meaning "market" in Hebrew, this new eatery focuses on simple yet palatable cuisine, giving pride of place to popular flagship recipes in Israel: mangal, Israeli barbecue where to grill kebabs, eggplants or even halloumi, large pitas, but also a Kanafeh for dessert (angel hair, apricot marmalade and labneh ice cream). A safe bet.
59, rue de Lancry Paris, France 75010, Tel. 09 87 57 87 68
The warmest Kosher Restaurants In Paris: Mulko
With its welcoming decor where its green velvety benches sit, matched to the bar, Mulko will captivate you for both its setting and its charming Franco-kosher menu. Using seasonal products, you can enjoy shakshuka, lamb koftas cooked in spicy tomato sauce and herbs, kebab burgers, Free Range Landes chicken shawarmas … A guaranteed spot to enjoy food.
29 Rue d´Enghien, 75010 Paris, Tel. 09 50 94 56 10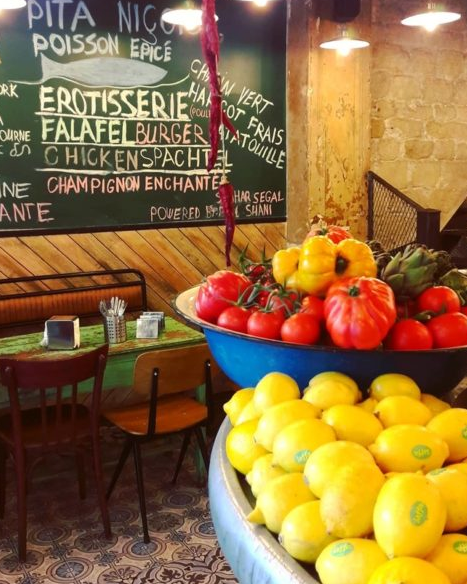 The Must-See: Miznon
Pioneer of the genre, Miznon first opened its doors in the Marais before setting sail for the Canal Saint-Martin. Led by chef Eyal Shani, these two restaurants delight their visitors into a vivid atmosphere, where colourful tables, overflowing vegetable baskets and pencilled boards announcing the specialities of the day are intermingled. Ultra-fresh, ultra gastronome: we go there for the incomparable pitas served with all kinds of sauces. Along with their mouth-watering lamb with herbs, roasted cauliflower and tahini, marinated chicken … Everything there is just delicious.
22 Rue des Ecouffes, 75004 Paris, Tel. 01 42 74 83 58
37, Quai de Valmy, 75010 Paris, Tel. + 33 1 48 03 47 22
Source: vogue.fr