What Are The Best Things To Do In Paris With A Baby – We offer some interactive ideas for outings in Paris with your little ones, depending on what tempts you. The proposed places are identifiable on any map by significant icons: "boat" for boat trips as you may have guessed, or "dinosaur" for the palaeontological museum, or "knife-fork" for … you know what;) etc!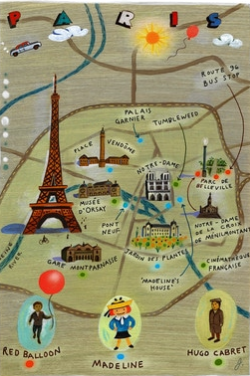 What Are The Best Things To Do In Paris With A Baby 
Here is an overview of these proposals:
You would like to have lunch or dinner without having to tell your children to stay quietly in place, you dream of a place where you can relax, and which welcomes your little ones with pleasure, offers them a good meal without even having them booked a play area? These places are still too rare, but they exist! Here are a few…
Enjoy your meal while the children play in their own special space..
16 Rue de Fontarabe, 75020 Paris
Metro Alexandre-Dumas (line 2), Gambetta (line 3) or Maraîchers (line 9)
22 Rue Gerbert, 75015 Paris
Metro Convention (Line 12) or Fougerard (Line 12), Bus 39-62-70-80-88-89
92bis Quai de la Loire, 75019 Paris
Metro Laumière (line 5), Crimea (line 7) or Jaurès (lines 2 and 5), bus 60
Bercy Park – 51 rue de Bercy, 75012 Paris
Metro Percy (lines 6 and 14); bus 24-64-87
2) Play or wander in a covered place
It's raining, but your little ones want to observe amazing animals, to discover dinosaur skeletons, to build bricks (foam) on a construction site, to pour buckets of water, to test, to play. Here are some ideal places for both children and adults.
The Tropical Aquarium, the Great Gallery of Evolution and more particularly the Children's Gallery to manipulate (or the Gallery of Paleontology if they love dinosaurs); and especially if you are looking for games and manipulations, a must-see-place is La Cité des Enfants "The City of Children", suitable for ages of 2-7 years or 5-12 years.
Remember to book your place or even your session on the internet, this will save you from queuing or having no more room 🙂
3) Museums, exhibitions
Paris, the "city-light" is a high place of culture. Tourists travel hundreds of thousands of kilometers to see The Mona Lisa, you can follow suit, and take your children to this beautiful place that is the Louvre, perhaps by adapting your visit to their desires: it can be a moment of amazement in the Khorsabad Court in front of majestic winged bulls with men's heads ("androcephalic" if you want to teach them a new word: p), or the opportunity to tell terrible myths such as that of Perseus fly to the rescue of Andromeda thanks to the head of Medusa if you go to Cours Marly and Puget, dedicated to the myths of Antiquity!
Many other museums are accessible to your little ones by reducing the visit and not forgetting the little moment of relaxation-snack that will rest everyone 🙂
The Cinémathèque de Paris, a real museum dedicated to the 7th art, the Cité de la Musique, the budding museum, or the Musée du Quai Branly.
4) Outdoor games, attractions
The weather is nice, and you want to enjoy this time to be outdoors with your children. They can discover animals, or play in wooden structures, or ask for rides!
The Ferme de Paris may interest you less if you come from the countryside and your children are familiar with the animals on the farm; otherwise, it is a moment that often pleases the little ones. The garden of acclimatization is a multiple place, animals, attractions and outdoor games are proposed, but is partially under construction until May 2018, the entrance is therefore 2 € during these works. Other possible places: the Parc Floral de Paris or the Zoological Park.
Bring children to an indoor activity where they can play, discover and experience!
90-minute sessions in a specific area, dedicated to games and discoveries. Don't forget to book online.
Science City – Rue 30 Corentin Cariou, 75019 Paris
Metro: Porte de la Villette (line 7) Tramway of Porte de la Villette (line 3b)
5) Adventurous touring with your babies around Paris
Finally, we offer some ideas for unusual walks: boat cruises, to take not far from the Eiffel Tower, discovering Montmartre by taking the funicular, it always pleases the children this "adventure".
You can also simply take walks along the banks of the Seine, designed specifically for pedestrians, the Pont Neuf at Pont de Sully, or the Pont de l'Alma Pont Royal. By clicking on each of these points on the map, you will get the names of the closest metros if needed, and you can even know the distance and the travel time between each point.
Do not hesitate to join us on the Facebook group "En route for the galaxy Baby-Portation" if you need advice on these places, additional information or simply if you want to make an appointment between parents!
And a tip: in Paris especially, you will bless your mode of porterage! To avoid overloading yourself, opt for the backpack (with the necessary water bottle!) Or even simpler the rolling bag or shopping cart, which allows you to have to wear only your small wonder 🙂
Enjoy, savor, take the time. Finally, whatever the destination, what counts is this moment of sharing with the family;)