Le Bois Plage en Re, Ile de Re, Charente Maritime
Le Bois Plage en Re, Ile de Re Geography and Transport
Le Bois-Plage-en-Re is a small seaside town located on the southern side of the Ile de Re, off the Atlantic coast of La Rochelle.  The commune covers an area of 12.18km2.  The town sits on the D201 that heads west towards La Couarde Sur Mer.
The island is accessible via a 3km toll bridge (cost from 9 euro to 16.50 return) from La Rochelle, and there are motorways towards Niort (N11) and Rochefort (N137).  Ile de Re can still be reached by boat, with the company Inter-Iles from the old port in La Rochelle, and also from a new facility (2008) at La Tranche Sur Mer (Vendee).  Timetables can vary in both days and times of travel depending on the season.
There is no rail link from the island, but La Rochelle does provide access to both regional rail (TER) and the TGV, which links with Paris (Montparnasse) in a shade over 3 hours.  The nearest airport is La Rochelle, and this offers flights to a variety of UK destinations with the major budget carriers.
Le Bois Plage en Re, Ile de Re Climate
The climate here is mild courtesy of the position of the village on the Atlantic coast.  This has the effect of keeping summer temperatures warm (but not excessively hot) whilst keeping winters mild.  Average summer temperatures are between 22C and 24C (14C to 17C night), and in winter this drops to 9C to 10C (4C to 5C night).
Spring and Autumn can be warm with May averaging 19C (12C), and September 22C (14C).  Wettest months are Oct and Nov with 65mm and 62mm respectively, and the driest months are June and Aug with 24mm and 29mm respectively.  This part of Charente Maritime receives over 2000 hours of sunshine annually.
Tourism And Camping In Le Bois Plage en Re, Ile de Re
There are a number of beaches to choose from along the 5km of coastline here, with conditions ideal for water sports.  The beaches are gently shelving and bordered by pine forests, and two of them are manned by lifeguards in the peak season.
On offer are swimming, windsurfing, surfing, cycle tracks, and fishing.  For local produce, the local winemakers cooperative offers tasting and sales of cognacs, and sparkling and still wines produced on the island.  Also on offer at the Cooperative Maraichere are the local potatoes (Appellation Origin Controlee – AOC), available during May and June.
Le Bois Plage en Re, Ile de Re Facilities
There is a daily market during summer (9am to 1pm) and out of season, this is restricted to Wed, Thu, Sat, and Sun.  This is said to be the biggest market on the island.  There is municipal camping here, and other local facilities and clubs include the Islands handball and tennis clubs, and there are other sports available such as badminton, boxing, dance, football, gymnastics, and volleyball.
Le Bois Plage en Re, Ile de Re Economy
The biggest business in Le Bois Plage is SDRM who sell plumbing and heating equipment.  However, local produce, commerce, and construction constitute the biggest part of the economy. The town is part of the La Rochelle economic zone which has an unemployment rate of 9.8%, compared against the regional rate of 8.6% and the national rate of 9.1% (INSEE 2006).
Education In Le Bois Plage en Re, Ile de Re
There is one state nursery school and primary school in Le Bois Plage.  The nearest secondary school is at St Martin de Re (4 km).  For colleges (Lycee) level there are options at La Rochelle.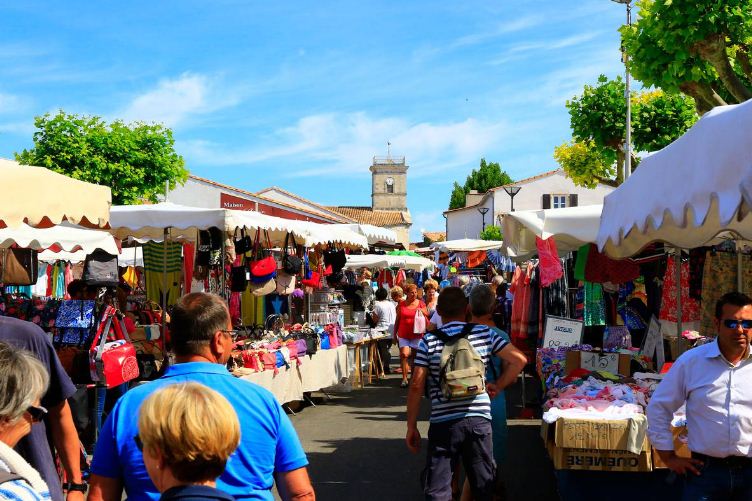 Le Bois Plage en Re, Ile de Re – Key Stats
Just 41% of homes here are main homes, with 53.7% of properties are classed as second homes. There are more people aged 60 or over than the national average (29.9% vs 21.3%), and the number of retired people is also higher (27.4% vs 18.2%).  21.5% of the local population is under 19 years of age.  There are fewer males than females resident here (48.9% vs 51.1%).  Hundreds of thousands of tourists visit the Ile de Re during peak times, but the population of the whole island is normally around 16,500.
Key Facilities and Services In Le Bois Plage en Re, Ile de Re
Supermarket
Post Office
Library
Baker
Hairdresser
Cafe
Butcher
Bank
Dentist
Bar/Tabac
Pharmacy
Doctor
Restaurant