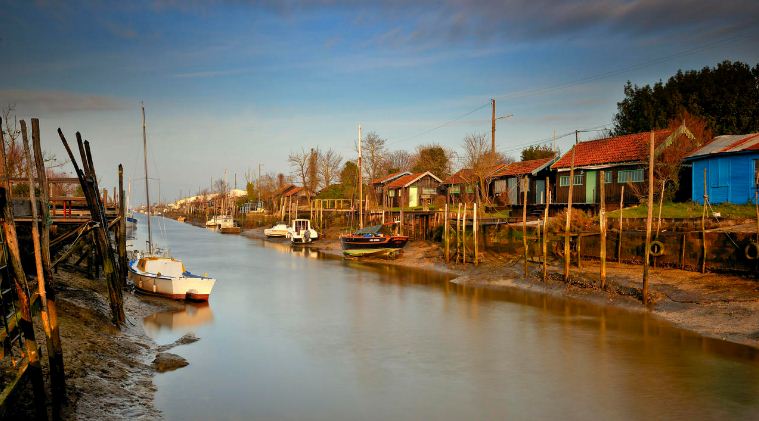 La Tremblade Geography and Transport
La Tremblade is a small town situated on the southern side of the Seudre Estuary, opposite the town of Marennes.  The commune covers an area of 69.13km2 The D728E takes you over the bridge to Marennes, or the other main access route is on the D14 via Saujon.  The D25 works its way around the Arvert Peninsula past Ronce Les Bains and along the Cote Sauvage.  The nearest rail link is at Saujon for the TER regional network, and the nearest commercial airport offering flights to the UK is at La Rochelle (71km).
 Weather in La Tremblade
The maritime climate here keeps winters mild and summers warm (but not too hot) and is within an area that receives over 2000 hours of sunshine per year.  Average daytime summer temperatures here are a few degrees cooler than neighboring Royan, with 20C to 23C (15C to 17C night).  Winter daytime temperatures are 9C to 10C (6C to 7C night).  The wettest month is November (62mm), and March and May to August are the driest months with between 23mm and 29mm.  September is normally warmer than June, with 21C daytime, and 16C night.
Tourism In La Tremblade France, Charente Maritime
The Arvert Peninsula on which La Tremblade is located has around 6000ha of pine forest and 30km of beaches.    The sheltered beaches along past Ronce les Bains (4km) are good for families with young children, as the estuary waters and gently sloping beaches make it safe bathing.  La Coquille Filante is a small train (on the road) that ferries tourists between La Tremblade and Ronce les Bains during the summer season, and there you will find a Base Nautique that offers sailing, catamarans, windsurfing, pedalos and kayaks.  There is a Maritime Museum in La Tremblade that opens in July and August, offering an insight into history and techniques of oyster farming.
La Tremblade France, Charente Maritime
Around the corner from La Tremblade is the Atlantic-facing Cote Sauvage, with over 20km of dune and forest backed surfing beaches, including 3 nudist zones.  There is a 35km stretch of cycle path along an old disused tramway, from La Tremblade to St Palais Sur Mer.  The Atlantic swell means that surfing is very popular, but the sheer size of the beaches and sand-dunes mean that it doesn't feel crowded even in the height of the season.  There are life-guarded beaches at La Coubre Lighthouse, La Bouverie, Pointe Espagnol, Les Pins de Cordouan and Clapet.  The pine forest here was planted in the 19th century and is home to paths ideal for walking, cycling or horse-riding.  The Cote Sauvage hosts the Coup de France Surf and Bodyboard event during August.
La Tremblade France, Charente Maritime
Le Phare de la Coubre is the 64m high lighthouse (built in 1905) at the southern end of the Cote Sauvage.  Visitors can climb the 300 steps to get panoramic views of the coastline or visit the Eco-Museum.  Bateaux Paisseur operates small pedestrian ferries between the Pointe de Grave at La Tremblade, to Marennes and St Trojan Les Bains (Oleron), and Croisieres Alize offers boat trips to the Ile d'Aix during July and August.  The Zoo at La Palmyre is a major tourist attraction, where you can see around 1600 animals across a 15ha site, in spacious and well-kept enclosures.  Also nearby is the Cite de l'Huitre at Marennes, a discovery center with themed 'Cabanes' that introduce you to oyster culture and farming.
La Tremblade Economy
La Tremblade is part of the Saintonge Maritime economic zone which has an unemployment rate of 11.4%, compared against the regional rate of 8.6% and the national rate of 9.1% (INSEE 2006).
La Tremblade Facilities
La Tremblade has most amenities, including a supermarket, restaurants, cafes, there is an outdoor pool at Marennes (10km) only open in summer.
Education In La Tremblade France, Charente Maritime
There is a state nursery, a primary and secondary school in La Tremblade, but for college (Lycee) the nearest facilities are at Bourcefranc le Chapus (12km) or Royan (24km).  There is also a private primary school in the town.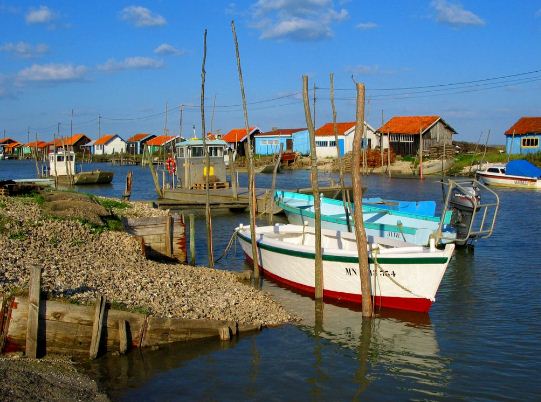 La Tremblade France, Charente Maritime Key Stats
Whilst most of the properties in La Tremblade are main residences 49.9%, 44.8% are classed as second homes.  There are more people aged 60 or over than the national average (37.8% vs 21.3%), and the number of retired people is also higher (32.3% vs 18.2%).  18.2% of the local population is under 19 years of age.  There are fewer males than females resident here (46.5% vs 53.5%).
Key Facilities and Services In La Tremblade France, Charente Maritime 
| | | |
| --- | --- | --- |
| Supermarket | Post Office | Doctors |
| Bakers | Hairdressers | Pharmacies |
| Butchers | Banks | Dentist |
| Cafes/Bar | Tabac | Restaurants |
| DIY Store | Cinema | Library |