Welcome to our review of ITA Airways, the national airline of Italy! As the newest addition to Italy's airline industry, ITA Airways has been making waves since its launch in October 2021, promising to offer the best possible customer service and flying experience to travelers worldwide. In this blog post, we'll provide an honest assessment of ITA Airways' services, from its on-time performance and inflight amenities to its customer support and booking process. Whether you're planning a vacation or business trip to Italy, our ITA Airways review will help you make an informed decision about choosing this airline as your travel partner. So sit back, relax, and read on!
1. Introduction to ITA Airways
ITA Airways, Italy's national airline, was founded on June 29, 2020, by the government of President Giuseppe Conte as a 100% public society. It replaced bankrupt Alitalia and has since become the first carrier in Italy to fly the modern Airbus. ITA Airways prides itself on providing a 100% Italian experience, from its in-flight dining options to its attention to passenger assistance and fleet maintenance.
Comparing ITA Airways to its predecessor, Alitalia, it is clear that the new carrier has made significant improvements to its overall service quality. The in-flight dining experience on ITA Airways is exceptional, with a focus on showcasing the best of Italian cuisine. For those traveling in economy, there are various seating options available, each with their own fees. However, the business class amenities are worth the extra cost, as they provide passengers with a truly luxurious flying experience.
Customers consistently rave about the exceptional customer service provided by ITA Airways employees. The airline's focus on passenger assistance is evident in its rigorous safety protocols and revamped onboard safety messages for long-haul flights, in collaboration with the Italian National Olympic Committee.
Overall, ITA Airways has received high ratings from frequent travelers who appreciate its meticulous attention to service quality, fleet maintenance, and passenger assistance. Its successful resurrection from Alitalia's bankruptcy proves that ITA Airways is a formidable player in the airline industry and a reliable option for travelers seeking an authentic Italian experience. With plans for expansion and continued improvements, ITA Airways is sure to remain a top choice for traveling to and within Italy.
2. Comparison with Alitalia
Alitalia, once the national airline of Italy, had failed to maintain its operations and went bankrupt. Its successor, ITA Airways, had high expectations to fill the gap and improve the customer experience. So how does ITA Airways compare to Alitalia?
According to numerous traveler reviews on Tripadvisor, Alitalia had a poor reputation for quality, customer service, and punctuality. ITA Airways aims to change that with its modern fleet of Airbus aircraft, revamped in-flight services, and improved customer satisfaction ratings.
While Alitalia charged exorbitant fees for add-on services, ITA Airways provides economy seating options starting from $9 with fees that go up to $140, depending on the passenger's needs.
In terms of the in-flight dining experience, the reviews appear to be mixed. Some travelers praised the quality and quantity of the food, while others found it subpar. However, the improved dining options in business class, including the ability to pre-order meals, give ITA Airways an edge over Alitalia.
The business class amenities on ITA Airways' A350 planes include lie-flat seats with direct aisle access, personal screens, and ample storage space. In contrast, Alitalia's business class had outdated seats and limited in-flight entertainment options.
The reviews for ITA Airways' customer service are largely positive, with many travelers complimenting the friendly and helpful staff. In contrast, reviews for Alitalia's customer service were consistently negative, with complaints about slow response times and unhelpful agents.
Overall, ITA Airways seems to be a great improvement over Alitalia, both in terms of the customer experience and the profitability of the airline. With its new fleet, revamped services, and a focus on customer satisfaction, ITA Airways has the potential to become Italy's most preferred airline.
3. In-flight Dining Experience
The in-flight dining experience on ITA Airways is a highlight for many travelers. In economy class, passengers are treated to free soft drinks and delicious Italian cookies. Meanwhile, business class passengers can expect premium meals served on a tablecloth with glassware.
Beginning on June 2nd, all intercontinental flights on ITA Airways' network will feature a revised menu. The new dining experience is sure to please travelers, as the food offering is already quite decent, and the food quality is good for a small lounge serving breakfast.
Overall, the in-flight dining experience on ITA Airways is a cut above the rest. The airline's commitment to providing high-quality meals to all passengers is apparent, and the new menu set to launch in June is sure to delight travelers even more. Combined with the other amenities available, such as comfortable seating and excellent customer service, ITA Airways is quickly establishing itself as a go-to airline for those traveling to and from Italy.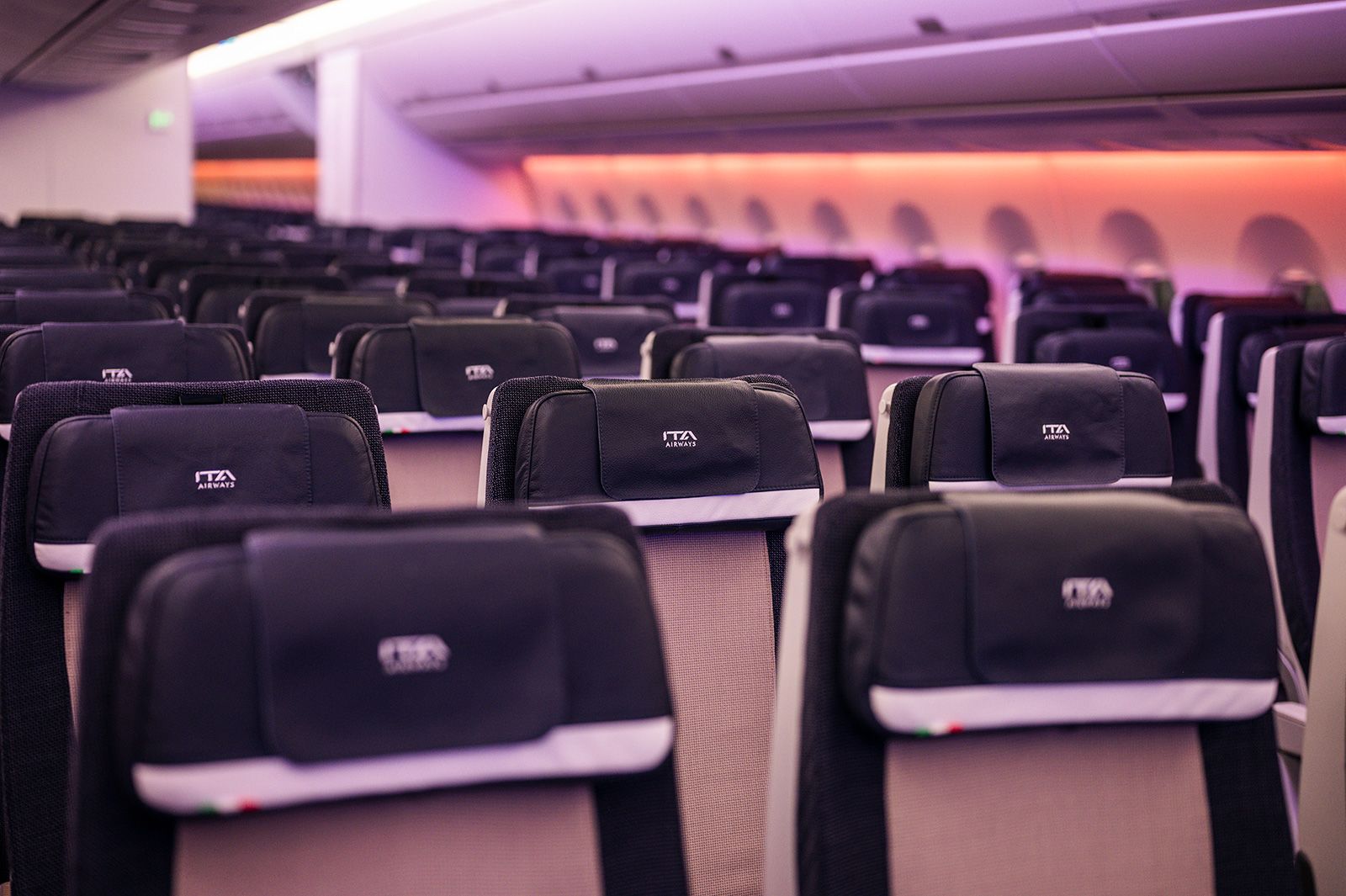 4. Economy Seating Options and Fees
ITA Airways, like many other airlines, offers its economy passengers a range of seating options with fees. These fees start at $9 and go up to $ $140, depending on your preference. Economy passengers can choose between seat selection or automatic seat assignment on all ITA flights.
One of the attractive features for economy passengers on ITA's short-haul flights is the complimentary soft drinks and delicious Italian cookies that are served. For those who wish to upgrade their seats, ITA offers 39 "comfort economy" seats with extra legroom, known as "comfort economy," with a 34-inch pitch. In contrast, standard economy seats feature 31-32 inches of pitch with 262 standard seats.
Compared to Alitalia, the previous national airline of Italy, ITA Airways provides a much more tailored and polished experience to its passengers. The airline's transition to ITA after the bankruptcy of Alitalia has given rise to a new era of growth and success. With Lufthansa providing additional investment, ITA Airways is set to flourish in the coming years.
Passengers who have flown with ITA Airways have a positive outlook towards the airline. Their fees and flight information are clearly outlined on the website, allowing travelers to make an informed decision before booking their flights.
Overall, ITA Airways' economy seating options and fees are in line with other airlines but with the added bonus of excellent service, delicious food offerings, and a range of seating options. With the success and growth of ITA Airways, there is an optimistic outlook on the future of this national airline of Italy.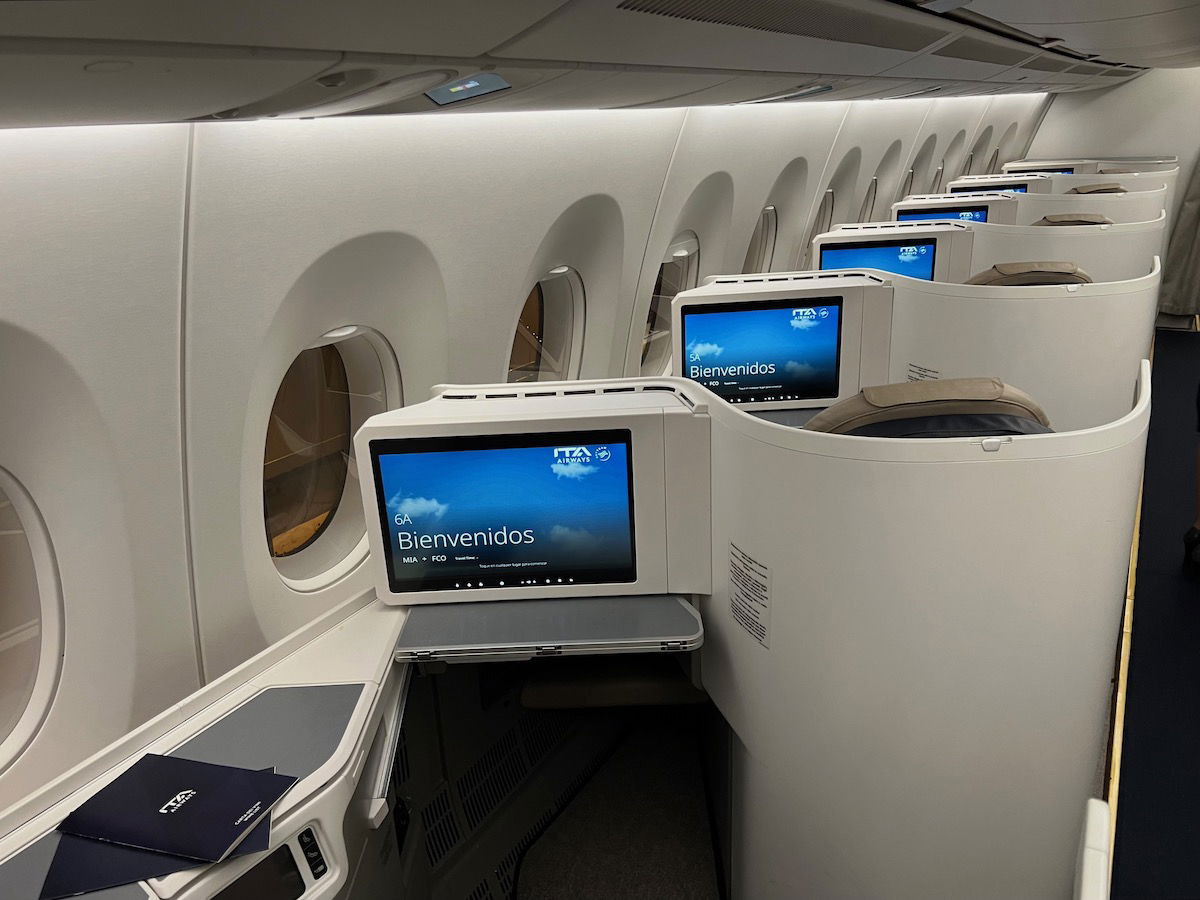 5. Business Class Amenities
ITA Airways' business class offerings have been praised by frequent travelers as top-notch. The airline provides a comfortable and spacious cabin, with three rows of seating where the middle seat is blocked by a fold-down table, adding extra personal space. The seats themselves are comfortable, allowing passengers to recline and rest comfortably during long-haul flights. These elements, combined with attentive and friendly service from the crew, make for a pleasant experience in the air.
One significant highlight of the ITA Airways business class experience is their exceptional food. Passengers are served a four-course meal that includes a selection of appetizers, entrees, and desserts. The menu onboard features dishes like cod and potato pie and meat ravioli, paired with an extensive wine list. The airline's culinary offerings, coupled with top-notch service, demonstrate ITA Airways' commitment to providing a high-end, luxurious experience.
The airline also offers a range of amenities, including blankets, pillows, and noise-canceling headphones, to ensure passengers remain comfortable throughout the flight. With a solid in-flight entertainment system, guests can choose from a selection of movies, TV shows, and music. Top-ups of drinks and snacks are also offered throughout the flight, ensuring that passengers' needs are met continuously.
Overall, ITA Airways' business class offerings are impressive, providing a comfortable, spacious cabin with exceptional service and attention to detail. Their commitment to high-quality food and amenities makes this airline a top contender for a luxurious travel experience. Further, the ITA Airways business class experience sets it apart from Alitalia and cements its position as a leading Italian airline.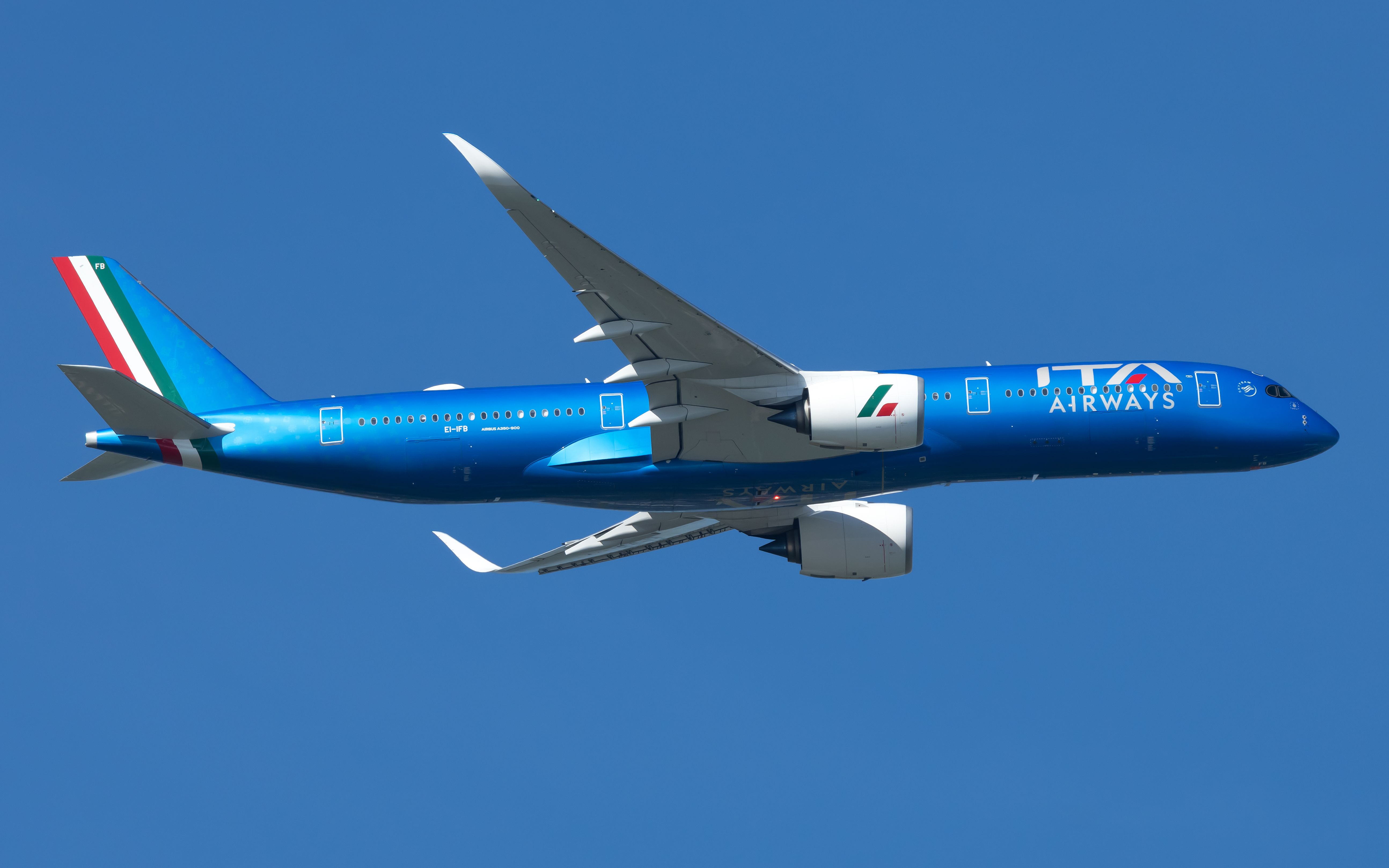 6. Customer Service and Employee Reviews
The customer service and employee reviews for ITA Airways have been mixed. While some travelers have praised the airline's friendly and helpful staff, others have reported uninterested employees and inefficient boarding processes. Overall, the airline's customer service seems to need improvement.
Employee reviews of ITA Airways have been generally positive, with many citing the airline's luxurious office and wonderful people. However, some travelers have reported encountering uninterested employees during their flights, which has led to a negative experience.
One of the key factors in a positive travel experience is the quality of customer service. While ITA Airways has made some improvements in this area, there is still a long way to go. Many travelers have reported marginal setups on planes and inefficient boarding processes, which can lead to delays and frustration.
Despite these negative reviews, many travelers have still found ITA Airways to be a good choice for their travel needs. The airline's new Airbus A350 is a major selling point, and the company's low prices are also attractive to budget-conscious travelers.
Overall, the customer service and employee reviews for ITA Airways are somewhat mixed. While some travelers have had positive experiences, others have encountered issues with inefficient boarding and uninterested employees. However, the airline's competitive pricing and luxurious office may still make it a viable option for travelers looking for an affordable and comfortable flight.
7. Average Rating from Frequent Travelers
When it comes to airlines, frequent travelers know best. So, what do they think of ITA Airways? According to verified customer reviews on various travel websites, the average rating for ITA Airways is 4.5 out of 7.
Many travelers praise the airline's modern Airbus fleet, which offers a comfortable and smooth ride. Some also appreciate the airline's air and rail intermodality, which makes travel in Italy more convenient. However, the website's navigation seems to be a point of contention for some customers, as it can be confusing and difficult to use.
In terms of customer service, reviews are mixed. While some travelers have had positive experiences with the airline's employees, others have reported unhelpful or unfriendly staff members. It remains to be seen how ITA Airways will address these concerns and continue to improve its customer service.
Business class amenities, such as the lie-flat seats and high-quality food options, receive positive reviews from travelers who choose to upgrade. However, some frequent flyers note that the economy seating options can be quite cramped and uncomfortable, especially on longer flights. Additionally, some customers feel that the fees for extra baggage or other services are too high.
Overall, ITA Airways seems to be off to a solid start as the new national airline of Italy. While there are some areas for improvement, such as customer service and website navigation, the airline's modern fleet and convenient intermodality make it a compelling choice for travel within Italy and beyond. As ITA Airways continues to evolve and improve, it will be interesting to see how it compares to its predecessor, Alitalia, and other airlines in the highly competitive aviation industry.
8. Alitalia's Hub and Headquarters Information
Before it was rebranded as ITA Airways, Alitalia was Italy's flag carrier for over seven decades. Its main operational hub was at Rome-Fiumicino Airport, also known as Leonardo da Vinci-Fiumicino Airport, and it had a secondary base at Milan Malpensa Airport.
Unfortunately, due to financial difficulties and the COVID-19 pandemic, Alitalia filed for bankruptcy in 2020, and the Italian government had to take over the airline's operations. This situation led to the creation of ITA Airways, the new national airline that aims to revive Italy's aviation industry.
ITA Airways decided to focus its operations solely on Rome's Fiumicino Airport, abandoning Milan Malpensa Airport, which was previously important for Alitalia. The decision was made to concentrate resources on the airport where the airline has the most potential to grow and increase its operations.
In addition to changing its hub and operations, ITA Airways is also relocating its headquarters to Fiumicino. The move is expected to be completed by the end of 2021.
By operating from one hub, ITA Airways can simplify operations, optimize resources, and enhance its network connectivity. Future plans include expanding its route network and increasing fleet size, which should stimulate business and tourism in Italy.
Overall, ITA Airways' focused approach could be an effective way to optimize resources and increase profitability. If executed well, the new airline could provide better connectivity to Italy's main cities and long-haul destinations, supporting Italy's post-pandemic economic recovery.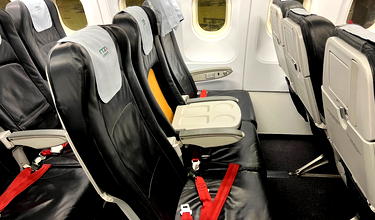 9. ITA Airways' Resurgence from Alitalia's Bankruptcy
The launch of ITA Airways marks a new beginning for Italian aviation, replacing the long-troubled Alitalia. The former Italian flag carrier had been battling financial instability, strikes, and layoffs, leading to its eventual bankruptcy. However, the new airline has emerged from the ashes of its predecessor, ready to chart its own course.
ITA Airways was established as a private company after the acquisition and merger of the bankrupt Italian airline, Air One. The airline has a strong commitment to sustainability, with plans to introduce new-generation aircraft that will account for 75% of its fleet by 2025. This dedication to the environment is admirable and illustrates the airline's desire to differentiate itself from its predecessor.
What sets ITA Airways apart from Alitalia is that it is not responsible for the former carrier's debt. This allows the new airline to focus solely on creating a new and improved travel experience for Italian passengers. The airline has even acquired the Alitalia brand, but it remains to be seen whether they will continue to operate under that name.
The Italian government has provided vital financial support to ITA Airways, illustrating their belief in the airline's potential. ITA Airways has also inherited Alitalia's hub at Rome's Fiumicino Airport, giving them the opportunity to expand their operations.
ITA Airways' strategy is to offer a streamlined, customer-focused experience. They aim to provide a quality product, whether passengers are traveling in economy or business class. The in-flight dining experience has been designed to reflect the quality of Italian cuisine, offering a range of regional dishes made with fresh ingredients.
ITA Airways' resurgence from Alitalia's bankruptcy is a promising sign for Italy's aviation industry. The airline has a fresh start and a clear vision for its future. The strong government support, together with the airline's commitment to sustainability and excellent customer service, suggests that ITA Airways has a bright future ahead.
10. Overall Flight Experience and Future Plans of ITA Airways
After exploring ITA Airways' in-flight dining experience, economy seating options, and business class amenities, it's time to review the overall flight experience and future plans of the Italy national airline.
ITA Airways may have inherited an older fleet of aircraft from Alitalia, but passengers have reported a significant improvement in the in-flight entertainment options. The airline's customer service has also received positive reviews, with fewer flight delays being noted.
Looking towards the future, ITA Airways is planning to expand its routes to include destinations in the United States as early as November 2022. Passengers can also enjoy the convenience of ITA's original airfare shopping engine, Matrix, which allows them to compare airfare options before booking their flights.
ITA Airways has also taken steps towards greener travel by allowing pilots to share pre-departure Covid-19 test results with the airline ahead of flying. As the world becomes more conscious of its carbon footprint, this initiative will set the airline apart from its competitors.
The Italian government wholly owns ITA Airways, which ensures the airline's continued financial stability. This is a significant advantage over Alitalia, which suffered significant financial losses leading to its bankruptcy.
Overall, ITA Airways offers a more pleasant flying experience than its predecessor, Alitalia. The airline's improved in-flight entertainment options and customer service, coupled with plans to expand its routes and promote green travel, make it a formidable competitor in the airline industry.