St.Pierre d'Oleron Island France

St.Pierre d'Oleron Island France Geography and Transport
Saint Pierre d'Oleron is the capital of the Ile d'Oleron, situated off the west coast of the Charente Maritime.  The commune has an area of 40.56km2.  The main access road to the island is the D728 via Marennes, and then over the 3km (toll-free) viaduct built-in 1966.
The D728 links the island with Saintes (63km) and this gives access to the A10 motorway and other main routes.  The main road through the island is the D26, and Saint Pierre is situated in a central position.  There are no main rail links here, and the nearest access to the regional railway is at Saujon (49km).  The nearest commercial airport offering flights to the UK is La Rochelle.
The Weather In St.Pierre d'Oleron Island France – Charente Maritime
The Islands position off the Atlantic coast means that summers are warm (but not too hot) and winters are temperate.  Average summer temperatures are between 20C and 23C (15C to 17C low), and in winter this drops to 9C to 10C (6C to 7C low).
Wettest month is November with an average of 62mm, and the driest periods are Mar, Jun, and Aug (23mm to 25mm).  Oleron is within the sunniest part of the Atlantic coast, with over 2000 hours of sunshine per year.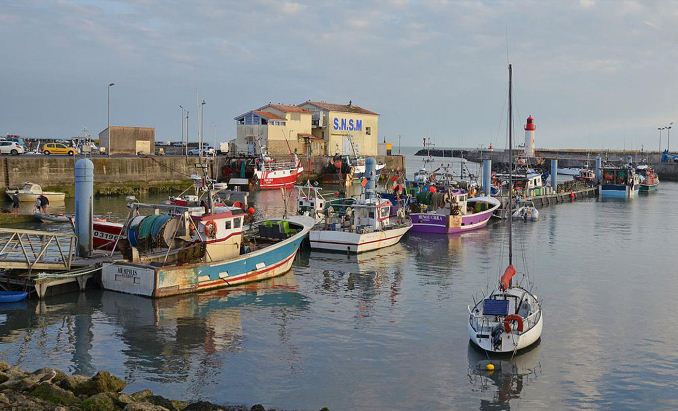 Tourism In St.Pierre d'Oleron Island France
Saint Pierre was formed in 1790, as the geographical, economic and administrative center of the Ile d'Oleron.  It became prosperous as a trading port for the export of salt, wine, and cognac. The commune is made up of 22 villages and 29 hamlets, and the port at Cotiniere is the 11th largest fishing port in France, and the biggest in the Charente Maritime.
The Aerodrome de Bois Fleury (1971) is situated closeby and has a 1000m grass landing strip.  The steam railway was introduced on the Ile d'Oleron in 1904 and operates seasonal services traversing the island end-to-end.
St.Pierre d'Oleron Island France
The Marais Salines on the north coast are former salt works that are now used for oyster farming, and the territory here is renowned for its diversity of wildlife and plants.  Interesting architecture around Saint Pierre includes Le Chateau de Bonnemie (1255 but date disputed), La Lanterne (a 25m tall 12th-century gothic hexagonal monument), and L'Eglise Saint Pierre (church built in 1623 with 40m tall bell-tower offering panoramic views).
La Musee d'Oleron is situated in an old farm building in the center of the commune, offering exhibitions on 19th century period clothing and fashion, and items relating to historic activities of salt and oyster farming, and viticulture.
There is an aquarium to visit at the port of La Cotiniere with a 70,000ltr saltwater tank.  There is also a botanical garden at nearby Boirie (Les Jardins de la Boirie) which was opened in 1999.  The Oyster Parc at Fort Royer offers guided tours, walks and tasting.
St.Pierre d'Oleron Island France Economy
St. Pierre d'Oleron is part of the La Rochelle economic zone, which has an unemployment rate of 9.8%, compared against the regional rate of 8.6% and the national rate of 9.1% (INSEE 2006).  The local economy is dependent on agriculture (vines, cereals, maize), tourism, oysters and local produce.
Facilities In St.Pierre d'Oleron Island France
The town has municipal camping at La Fauche-Prere, and there are many sports and leisure activities situated in and around the Saint Pierre area.  There is a 'links' golf course 8km south of Saint Pierre at Golf d'Oleron, and the town also has a tennis complex and a large multi-sports complex with artificial pitches, and specialist facilities for gymnastics and dance, as well as a multi-sports hall. Saint Pierre d'Oleron has the facilities you would expect from a town of this size, including supermarkets, bakers, cinema and a disco.
Education In St.Pierre d'Oleron Island France
There are 3 state nursery schools, 3 primary schools and 1 secondary school in St Pierre d'Oleron, but for college (Lycee) the nearest facilities are at Saint George d'Oleron (5km).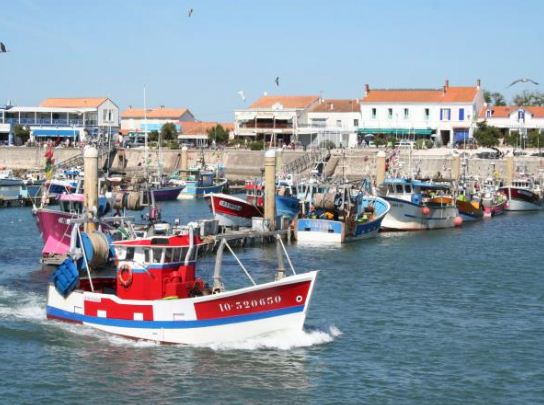 St.Pierre d'Oleron Island France  Key Stats
45% of the properties in St Pierre d'Oleron are main residences and 50% are classed as second homes.  There are more people aged 60 or over than the national average (31.9% vs 21.3%), and the number of retired people is also higher (28.4% vs 18.2%).  20.7% of the local population is under 19 years of age.  There are fewer males than females resident here (48.1% vs 51.9%).
Key Facilities and Services In St.Pierre d'Oleron Island France
| | | |
| --- | --- | --- |
| Supermarket s | Post Office | Doctors |
| Bakers | Hairdressers | Pharmacies |
| Butchers | Banks | Dentist |
| Cafes/Bars | Tabacs | Restaurants |
| DIY Stores | Cinema | Disco |
| | | |
| | | |