Royan France Tourist Information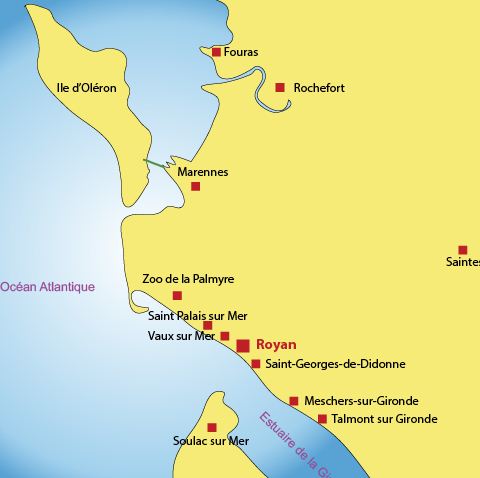 Royan France Tourist Information – Geography and Transport
Situated at the mouth of the Gironde Estuary, Royan is a large seaside resort town on the Atlantic Coast of Charente Maritime.  The commune covers an area of 19.3km2.  The RN150 enables access north to Saintes (37km/40mins) and the A10 motorway, and the D730 takes traffic south and east towards Mirambeau.  Royan does have an airfield (Medis), but the nearest commercial airport is at Rochefort, which serves French locations.  La Rochelle is the nearest airport offering flights to the UK.  Royan is linked to the TER regional rail network.
Royan France Tourist Information – The Weather
The location of Royan on the Atlantic coast means that the climate is temperate all year round, with warm (but not excessively hot) summers, and cool (but not extremely cold) winters.  Spring and early Autumn can be warm.  In summer, daytime temperatures average 24C to 27C (13C to 15C night), and in winter this drops to 9C to 11C (3C to 4C).  Wettest months are October and November (57mm to 59mm), and the driest are March, July, and August (32mm).  Royan is within an area that receives over 2000 hours of sunshine per year.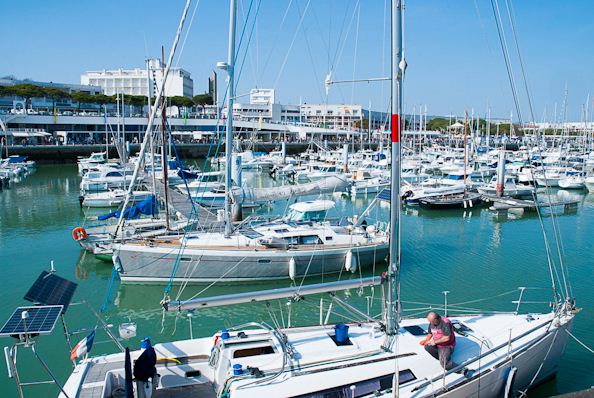 Royan France Tourist Information
Royan was originally a modest fishing village but grew during the 19th century to become a fashionable seaside resort, popular with wealthy people from Paris and Bordeaux, who came to enjoy the sea bathing on the pine backed beaches.
The town still retains some of its Belle Epoche architecture along the seafront.  A German garrison was stationed in Royan during WWII, and the town was all but flattened by allied bombs in an effort to re-take it in January 1945, with many local casualties.  The town was re-built during the 1950s and 60s, with Claude Ferret an architect from Bordeaux responsible for drawing up the new town plan.
Royan has 5 sandy beaches, the largest being the Grand Conche at 2km long.  There are also beaches nearby at Saint Palais Sur Mer and St Georges de Didonne, and the Cote Sauvage offers 20km of unspoiled coastline and protected sand dunes.
This area is popular for walking and cycling within La Coubre Forest.  There are 2 harbors in Royan, one used for fishing vessels, and the other is the third largest commercial port on the French Atlantic coast.  It is possible to take boat trips to see the 400-year-old Cordouan Lighthouse in the middle of the mouth of the Gironde Estuary, and to land at the Pointe de Grave on the southern side.
Close to Royan is the La Palmyre Zoo, where you can see around 1600 animals across a 15ha site, in spacious and well-kept enclosures.  Also nearby are the villages of La Tremblade, Marennes, and Bourcefranc, which are famous for their oyster farms.
The 18th-century oyster farming town of Mornac Sur Seudre is not far away (12km), and this is said to be one of the most beautiful villages in France.  Jardins du Monde(Gardens of the World) is a popular attraction in Royan, it is a 7.5ha floral park including giant bamboo, orchids and an English garden complete with a red telephone box.
In June Royan hosts Le Reve d'Icare (a fair and exposition of Helicopters, lasting for a week), and the Fete de la Musique, a music festival covering many genres and at a variety of venues around the town.
For 3 nights in July, the beach at Royan is transformed into a giant concert venue, where a collection of great classical musicians (85 in the orchestra) perform at 'Un Violon Sur le Sable' (a violin on the sand).  Each night attracts up to 40,000 people, to see orchestral and solo performances ending in a spectacular fireworks display.
Royan France Economy
Largest companies operating in Royan are STE Distribution Royannaise (goods distribution) and the water utility Eaux de Royan.  However, the economy in Royan is largely geared towards tourism and commerce.  Royan is part of the Saintonge Maritime economic zone which has an unemployment rate of 11.4%, compared against the regional rate of 8.6% and the national rate of 9.1% (INSEE 2006).
Facilities In Royan France – Tourist Information
As you would expect from a town of this size most amenities are available including supermarkets, restaurants, cafes and a cinema.
Education In Royan France 
There are 5 state nursery schools, 5 state primary schools, and 2 state secondary schools.  There are private options available at both primary and secondary level.  The town has 3 colleges (Lycee).
Royan France Key Stats
Whilst the majority of the properties in Royan are main residences 51.6%, a large proportion (41.8%) are classed as second homes.  There are more people aged 60 or over than the national average (43.2% vs 21.3%), and the number of retired people is also higher (37.1% vs 18.2%).  15.5% of the local population is under 19 years of age.  There are fewer males than females resident here (44.5% vs 55.5%).
Key Facilities and Services In Royan France
| | | |
| --- | --- | --- |
| Supermarkets | Post Office | DIY Stores |
| Bakers | Hairdressers | Swimming Pool |
| Butchers | Banks | Dentists |
| Bar/Tabacs | Pharmacies | Doctors |
| Restaurants | Library | Cinema |
| Cafes | | |