Camping Near Lake Annecy French Alps Campsites Vacations –  Lake Annecy is the largest lake in France and one of the purest in Europe, is located in Haute Savoie, as is Lake Geneva. It measures 14.6 kilometers with a width of 800 to 3300 meters, making it the second-largest lake in France after Lake Bourget.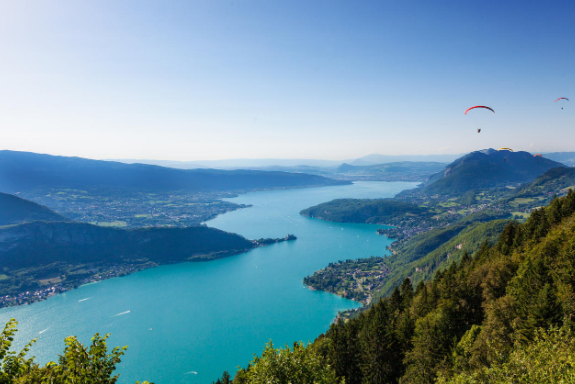 Lake Annecy In France – French Alps Vacation & Campsites
It consists of two separate basins, the "Grand" and "Petit" lakes separated by the Roc de Chère and Duingt Castle.
With a maximum depth of 82 meters, averaging 41.5 meters and evolving at an altitude of 466 meters, Lake Annecy is fed by the Bourbioz (underground source), the Bornette, the Laudon, the Biolon, and that the Ire and the Dead Water which would be, according to the legend following the ice melting, responsible for having swallowed up an entire village back in the 15th Century!
Formed more than 18000 years ago, the lake has seen the birth of the surrounding mountains and springs mentioned above following the melting of the great alpine glaciers.
It is also the source of the River Thiou, which is formed in the heart of the old city (behind the town hall) where we find the pier, as well as Dragonfly, Swan, Savoy, and other famous red and white boats circulating all year round on the lake for the pleasure of all. He ends his path by throwing himself into the Fier which throws itself in turn into the Rhone.
Annecy French Alps Campsites
Lake Annecy In France Diverse Activities
The lake is one of the major assets of tourism in France because of the many activities it offers Swimming, boat trips (If you don't have one, do not hesitate to consider renting a boat in Annecy or elsewhere around the lake), windsurfing, diving …
One discovery there, in particular, the exceptional feast of the lake, thrown every year by the city of Annecy.
Festival Of The Lake Annecy In France
On the first Saturday of August, Albigny Bay becomes the enchanting setting for the biggest pyrotechnic show in Europe … 70 minutes of fireworks accompanied by music, lights, water games. ..
Nearly 200,000 spectators join the lakeside to participate in this evening of pleasure and admiration.
At The End
Natural jewel, Lake Annecy lends itself to multiple activities, according to your desires. We can swim, sail, peruse its banks on foot or by bike, relax at the discretion of its beaches or fly over …
Combining so many assets, the lake is very popular, but one can not be tired of this majestic decoration enhanced by the play of light magnifying the colors and the transparency of the waters, a source of inspiration for the painters from the beginning of the 19th century.