How To Write A French Cheque Amount In Words & Open Account
Opening a French Bank Account
As long as you have a French address, you are able to open a bank account here.  The bank will require a form of identification (ie passport), and proof of address (normally a utility or telephone bill in your name).  The different types of account options are much the same as other countries:
Current Account – Compte Courant
Savings Account – Compte Epargne
With a current account, you will normally receive a debit card (Carte Bancaire) and a checkbook (Chequier), and you will receive a monthly account statement (Releve de Compte).
Bank Charges
It is normal in France to pay a monthly charge (frais) for your current account, charges are also made for any agreed overdraft facility (decouvert), regardless of whether you have used it or not.  You will be charged interest while your account is in debit.  If you have a Carte Bancaire, you may also be charged a small annual fee.
International Money Transfers
If you need to transfer money from abroad, a small levy will be charged per transaction by your French bank (Avis d'Operation), and it is normal for your foreign bank to also charge for sending the money in the first place.  When transferring the money you are exposed to fluctuations in the exchange rate, and this can be costly.  It is possible to protect your money by arranging a foreign exchange contract, such as that offered by Hifx, where you can agree on a rate for 1 or 2 years and arrange the transfer using direct debit.
Paying Bills
Bills are normally paid by either cheque or direct debit (prelevement).  To set up a prelevement, you will normally be asked for a RIB (Releve d'Identite Bancaire), which is a slip normally found in the back of your checkbook.  This states your bank account identity details.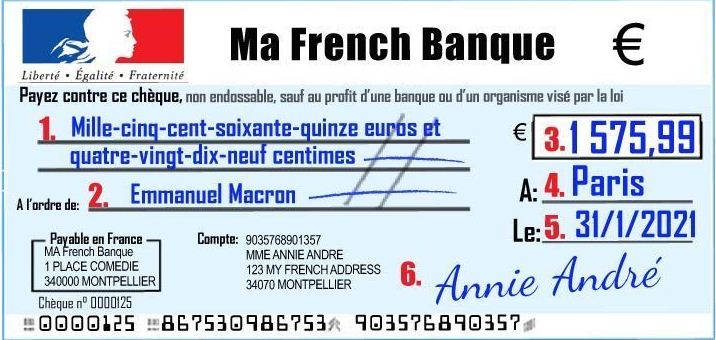 Writing a French Cheque
The amount in words goes at the top of the cheque (the opposite to the UK), underneath is written who the money needs to be paid to.  The amount in numbers goes to the box on the right (as in the UK) but use commas instead of decimal points.
Underneath you need to write the name of the place (town, village) where the cheque was written, and enter the date underneath.
Your signature then goes underneath that.  Cheque guarantee cards are not needed in France, as it is illegal to write a cheque if you do not have the funds to cover it in your account.
Banking Words in French
| | |
| --- | --- |
| Action | Shares |
| Agios | The interest that has to be paid on a loan or overdraft |
| Annuite | An annual payment |
| Apport | The deposit you need to give to the lender when taking out a loan or mortgage |
| Approvisionner | Credit to an account |
| Argent liquide | Cash |
| Assurance Deces Invalidite | Death and invalidity insurance |
| Avis d'operation | A receipt for any action on an account, i.e., a withdrawal |
| Bank Identifier Code (BIC) | The BIC is a unique code that identifies individual banking and financial institutions |
| Beneficiaire | Beneficiary |
| Caution | Guarantee |
| Cheque | A cheque |
| Chequier | Cheque book |
| Cheque de banque | Bankers draft |
| Cheque sans provision | A bounced cheque |
| Code personnel | The unique password used online to access account information |
| Commission de Compte debiteur | An overdrawn account |
| Compte bancaire | Bank account |
| Compte de epargne | Savings account |
| Compte destinataire | The account receiving money |
| Compte inactif | An account that has had no activity for at least 12 months |
| Compte joint | A joint account |
| Compte Titres | A holding account for stocks and shares whilst they are being bought and sold |
| Cours | The value of a share at a specific moment |
| Courtier | Broker |
| Courtier en Bourse | Stockbroker |
| Credit | Loan or credit |
| Credit hypothecaire | Mortgage |
| Credit revolving | A Loan that remains constantly topped up to a certain limit even when some has been paid off |
| Distributeur Automatique de Billets (DAB) | A cash machine or ATM |
| Date de valeur | Date when a credit or debit is seen as valid by the bank |
| Date d'expiration | The expiry date |
| Date d'operation | The actual date that a debit or credit is made |
| Debit | Debit |
| Debit differe | Delayed debit = when all debits made on a credit card are grouped together and taken out of the account at the end of the month |
| Debit immediat | Immediate debit = any debits on a credit card are taken out of the account immediately |
| Decouvert | Overdraft |
| Deposer | Credit to an account |
| Depot | Deposit |
| Devise | Foreign currency |
| Droits de garde | The fees charged by a broker to look after shares |
| Echeancier | Details of a loan i.e., repayments, interest, term |
| Endosser | The signature on the back of a cheque |
| Especes | Cash |
| Facilite de caisse | A short term overdraft used in exceptional circumstances |
| Frais | Fees |
| IBAN | The IBAN (International Bank Account Number) are letters and numbers that identify a specific bank account. |
| Impot | Tax |
| Interets | Account or loan interest |
| Mandataire | An individual who has been given authority by an account holder to operate their account |
| Mensualite | Monthly payment or repayment |
| Monnaie | Currency |
| Opposition | Cancellation of payment |
| Placement | Investment |
| Prelevement automatique | A direct debit authorized by the account holder which comes out of the account automatically |
| Pret | Loan |
| Pret garanti | Secured loan |
| Procuration | Power of attorney or proxy |
| Rapatriement | Commission on receipt of an international currency |
| Remboursement | Redemption or repayment |
| Renouvellement automatique | Automatic renewal of your checkbook |
| Releve de compte | Bank statement |
| Releve d'Identite Bancaire (RIB) | A form, which can be found in the checkbook, which provides bank and account details |
| Retirer | Withdrawal |
| Saisie Attribution | Seizure of funds |
| Solde | Balance |
| Tableau d'amortissement | Schedule of monthly repayments |
| Taux | Interest rate |
| Taux de change | Exchange rate |
| TEG | Annual percentage rate (APR) |
| Titulaire | Account holder |
| Titre Interbancaire de Paiement (TIP) | Authorized permission to debit an account of the sum asked for by the provider |
| Valable | Valid |
| Versement | Payment of funds into an account |
| Virement | Transfer of funds into another account |