Barbezieux Saint Hilaire France Geography & Transport Links
Barbezieux St Hilaire is a small market town (26.55km2) located to the South and West of the Charente Department, at an altitude of 32m to 131m.  The RN10 by-passes the town to the East, linking it with the cities of Bordeaux (Aquitaine) and the departmental capital Angouleme.  There is no regional rail link here, however, TER runs a bus from the town to connect the railway station at chalais.  The nearest rail travel will be found at either Chalais (30km) or Angouleme (36km), the latter enabling connection to Paris via TGV.  The nearest airport is also at Angouleme (Brie/Champniers).
 Weather in St Hilaire France, Barbezieux
The nearest weather averages (Jonzac) show that the hottest months are June to August (24c to 27C day, 13C to 15C night), but September can also be temperate (23C/12C).  Winter temperatures are not excessively cold at 9C to 11C (3C/4C night).  Wettest months are Oct, Nov, and Dec (52mm to 59mm), and the driest Mar, Jul, and Aug (32mm).  Barbezieux St Hilaire is part of a zone which receives over 2000 hours of sunshine per year.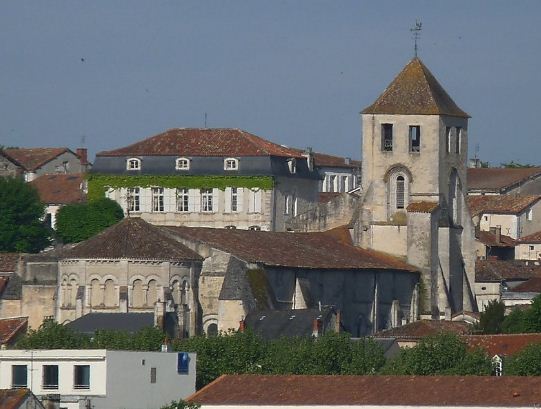 Tourism In Barbezieux Saint Hilaire France
To the North of the town is vine-covered countryside that marks out its position within the Petite Champagne zone of Cognac production.  The town is famous for its breed of chicken 'la poule noire de Barbezieux', which almost disappeared, but is now bred successfully in the town.  The 15th Century Chateau that stands in the center of the town replaced the original which was destroyed in the 100 years war.  For leisure, there is an equestrian center, tennis and beach volleyball courts, and a municipal swimming pool.  The town also has a cinema.  The Hot Air Ballooning 'Coup d'Europe' (European Cup) is held in nearby Blanzac (16km) during August.
Barbezieux Saint Hilaire France Economy
Not surprisingly, cognac production accounts for the majority of economic activity here, but the main enterprise is Motoculture Herriberr, makers of gardening and horticultural equipment.  Barbezieux Saint Hilaire is part of the Sud Charente economic zone, which has an unemployment rate of 8.8%, compared against the regional rate of 8.6% and the national rate of 9.1% (INSEE 2006).
Barbezieux Saint Hilaire France Facilities
Barbeziuex Saint Hilaire has most amenities, including a supermarket, restaurant and swimming pool.


Education In Barbezieux Saint Hilaire France
The town has state education at Nursery (2), Primary (2), High School (1) and College (Lycee) levels, and there is a private option for Nursery to High School with the Catholic institution Sainte Marie.

Barbezieux Saint Hilaire France Key Stats
Most of the properties in Barbezieux St Hilaire are main residences 87.4%, and 2.8% of properties are classed as second homes.  There are more people aged 60 or over than the national average (28.7% vs 21.3%), and the number of retired people is also higher (24.1% vs 18.2%).  21.3% of the local population is under 19 years of age.  There are fewer males than females resident here (46.4% vs 53.6%).
Barbezieux Saint Hilaire France Key Facilities and Services
| | | |
| --- | --- | --- |
| Supermarket | Post Office | Cinema |
| Baker | Hairdresser | Hardware Store |
| Café | Bank | Dentist |
| Bar/Tabac | Pharmacy | Doctor |
| Restaurant | Butcher | |
| | | |
Know Barbezieux better than we do?  Leave a comment below.