Aubeterre Sur Dronne Charente France Geography and Transport
A Hamlet covering 2.39km2 and situated in the South of the Charente Department very close to the border with the Dordogne (Aquitaine).  There are no major roads near to Aubeterre sur Dronne, although the D674 can be reached at Chalais (12km).  Chalais also gives access to the regional rail network (TER).  The nearest airport is Angouleme, but add another 30 mins to your journey and you could be at either Bordeaux or Bergerac for other flight options to the UK.  As the name suggests, the Hamlet is situated on the Dronne River, at an altitude of 38m to 112m.
Aubeterre Sur Dronne Charente France Climate
The climate here is Maritime, with hot Summer daytime temperatures of between 26C and 28C (13C to 15C night).  May, September, and October also provide warm daytime temperatures (between 20C to 24C), with nights dropping to 9C to 11C.  Winter temperatures are typically 10C to 12C (2C to 3C night).  Wettest months are Apr, May, Nov and Dec (70mm to 79mm), and driest are Feb, Mar, and July (42mm to 48mm).  Aubeterre sur Dronne is part of a zone which receives over 2000 hours of sunshine per year.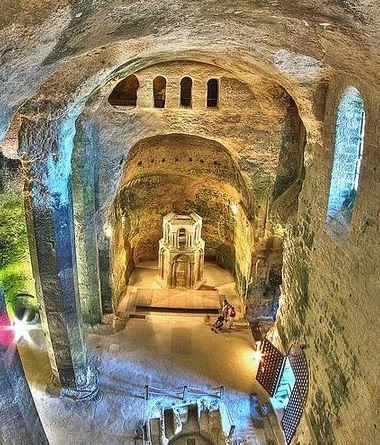 Tourism In Aubeterre Sur Dronne Charente France
Aubeterre sur Dronne is recognized as being one of the most beautiful (and most photographed) villages in France (Les Plus Beaux Villes de France).  Narrow and winding medieval streets offer views of the ruins of the 16th Century Chateau above the village.  The key site to see here is the Monolithic Eglise St Jean, the largest underground church in France.  Carved out of the rock of a cliff that stands over the Dronne River, the church is 20m tall and contains a number of important historic monuments.  Also of note, is the Eglise St Jacques, a 12th Century Romanesque Church that was destroyed by war in 1562, and re-built in the 17th Century.  Also available in Aubeterre sur Dronne are museums covering Puppets, Butterfly and African Arts, and Dolls.  There is a campsite in Aubeterre itself, and another at St Aulaye (Dordogne).  Whilst Aubeterre is some distance from the coast, there are small beaches nearby, either by the Dronne River (Aubeterre, Parcoul and St Aulay) or at the lake at Brossac.
Aubeterre Sur Dronne Charente France – Economy
Aubeterre sur Dronne is part of the Sud Charente economic zone, which has an unemployment rate of 8.8%, compared against the regional rate of 8.6% and the national rate of 9.1% (INSEE 2006).
Facilities In Aubeterre Sur Dronne Charente France
Supermarkets are available nearby at both Riberac (Dordogne) and Chalais (10km), although Aubeterre has its own smaller general store.  The nearest swimming pool is at Chalais, and for a cinema, you will need to travel to Riberac.
Education In Aubeterre Sur Dronne Charente France
Aubeterre has both a Nursery School and a Primary School, but for High School (College) children can travel to Chalais, Saint Aulay or Riberac (1 private and 1 public).  Riberac also has a College (Lycee).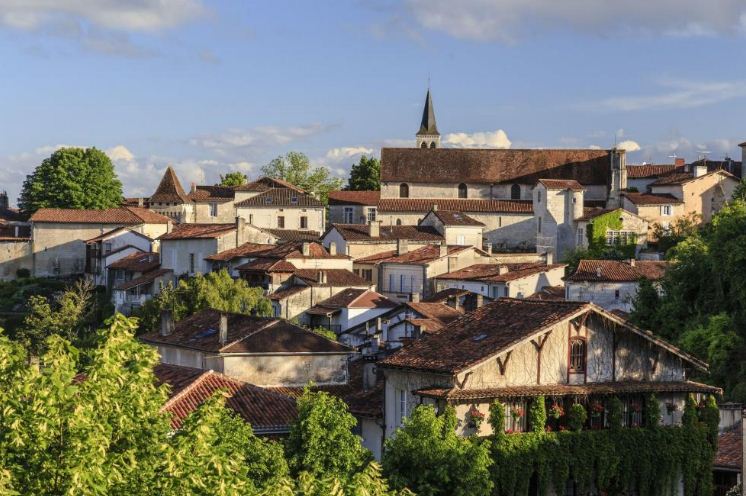 Aubeterre Sur Dronne Charente France – Key Stats
There are more females than males in Aubeterre (51.6 vs 48.4), and there the proportion of the population over 60 years of age is significantly higher than the national average (49.5% vs 21.3%), with the percentage of people below the age of 19 is nearly half the national average (13.7% vs 24.6%).  The proportion of retired people here is also higher (29.5% vs 18.2%).  Of the properties in Aubeterre, only 63% are classed as main homes, with a huge 23% classed as second homes.
Aubeterre Sur Dronne Charente France Key Facilities and Services
General Store
Post Office
Baker
Hairdresser
Restaurant
Bank
Pharmacy
Doctor
Butcher