Ars En Re France Geography and Transport
Ars en Re is a village located on the western side of the Ile de Re, off the Atlantic coast of La Rochelle.  The commune covers an area of 10.95km2.  The island is accessible via a 3km toll bridge (cost from 9 euro to 16.50 return), and the D735 is the main road that runs through it.  From La Rochelle, there are motorways towards Niort (N11) and Rochefort (N137).  There is no rail link from the island, but La Rochelle does provide access to both regional rail (TER) and the TGV, which links with Paris (Montparnasse) in a shade over 3 hours.  The nearest airport is La Rochelle, and this offers flights to a variety of UK destinations with the major budget carriers.
 Ars En Re France Climate
The climate here is mild courtesy of the position of the village on the Atlantic coast.  This has the effect of keeping summer temperatures warm (but not excessively hot) whilst keeping winters mild.  Average summer temperatures are between 22C and 24C (14C to 17C night), and in winter this drops to 9C to 10C (4C to 5C night).  Spring and Autumn can be warm with May averaging 19C (12C), and September 22C (14C).  Wettest months are Oct and Nov with 65mm and 62mm respectively, and the driest months are June and Aug with 24mm and 29mm respectively.  The village is within an area that receives over 2000 hours of sunshine per year.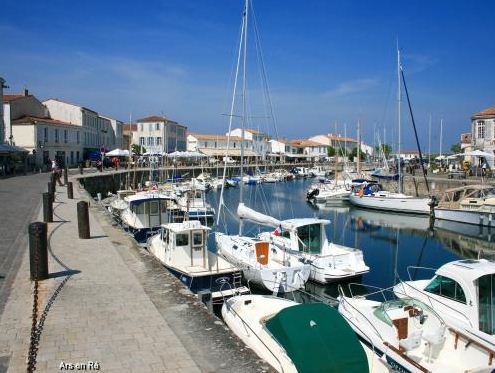 Ars En Re France Holiday Rentals And Tourism
Ars en Re is listed as one of the most beautiful villages in France (Les plus beaux villages de France).  It is one of the oldest parishes on the island and has historically been part of the salt trade, with the first salt pans established close-by in the 11thCentury.  There are still around 60 salt merchants active today in the area.  The village boasts a 12th Century church (St Etienne), whose 40m high black and white spire still serve as a landmark for sailors.  The village was a separate island until the 15th Century when it was connected with the rest of Re by landfill.
 Ars En Re France Facilities
The village has a pretty yachting harbor, and all around are opportunities for activities such as tennis, boating, fishing, diving, swimming, cycling, and horse riding, and there is a thalassotherapy center here for health treatments using salty sea water.  Not surprisingly, the restaurants here offer fresh seafood, with oysters being the specialty, and l'Huitriere de Re oyster farm offers the opportunity to learn more about oyster farming through guided tours and a small museum.
 Ars En Re France Economy
The village is part of the La Rochelle economic zone which has an unemployment rate of 9.8%, compared against the regional rate of 8.6% and the national rate of 9.1% (INSEE 2006).  The economy here is driven by agriculture, tourism and salt production.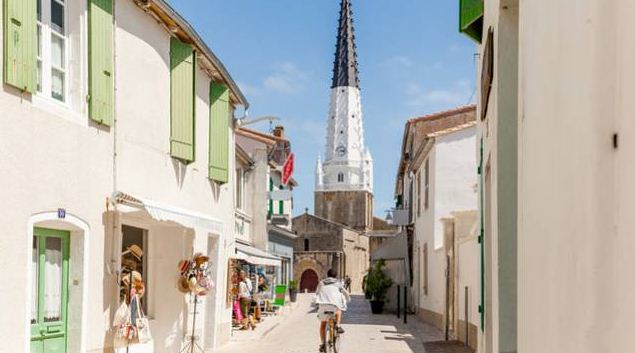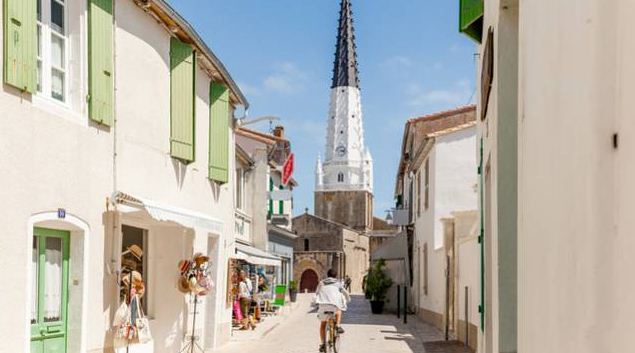 Ars En Re France Education
There is a primary school in the village, and the nearest secondary school is 13km away at St Martin de Re.  Colleges (Lycee) are available across the water at La Rochelle.
 Ars En Re France Key Stats
A whopping 60.4% of homes here are second homes, with 36.4% of properties are classed as primary homes.  There are more people aged 60 or over than the national average (36.4% vs 21.3%), and the number of retired people is also higher (31.7% vs 18.2%).  18.6% of the local population are under 19 years of age.  There are fewer males than females resident here (49% vs 51%).  Hundreds of thousands of tourists visit the Ile de Re during peak times, but the population of the whole island is normally around 16,500.
 Ars En Re France Key Facilities and Services:
Supermarket
Post Office
DIY Store
Baker
Hairdresser
Cafe
Butcher
Bank
Dentist
Bar/Tabac
Pharmacy
Doctor
Restaurant