Best South Of France 10, 7, and 5 Days Road Trip MAP INTENTARY & IDEAS – To help you build and organize your trip to France, here is a simple guided itinerary to truly discover the South of France on roads in ten days.
My tour below is a simple model that I share with travelers for the sole purpose of giving them an idea that they can draw on to develop their own course. Travel time estimates may vary depending on the period (summer or winter), traffic, strikes, schedule changes, departures, etc.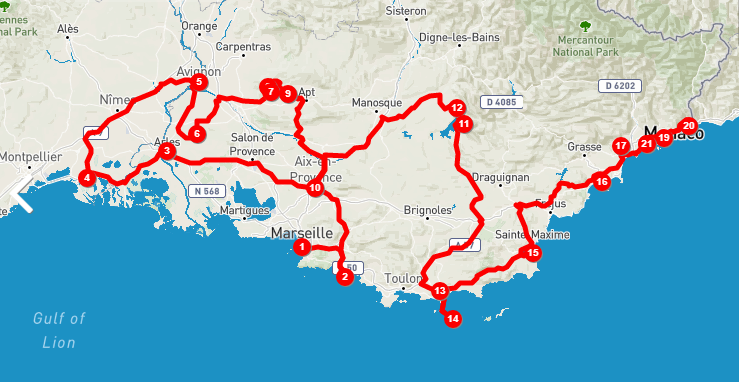 Best South Of France 10, 7, 5 Days Road Trip MAP INTENTARY & IDEAS 
As a reminder and before giving you more details, displayed above the map outlining the itinerary to tour the South of France by car in just 10 days. Of course, if you have 12 or 15 days, this tour will be even more enjoyable because you can better experience the sites by taking more time. But for an optimized trip of 10 days, it's a good trade-off!
Best South Of France 10, 7, 5 Days Road Trip MAP INTENTARY & IDEAS – The Car Rental
As this route is being studied for a road trip, you may be wondering: where should I rent a car? Straight at the airport in Marseille? Should we book it in advance? What are the recommended websites?
Of course, you can rent your car at the airport, but also online booking with Expedia for example. On this platform, it is very easy to rent a car: they always have compatible prices and offer an excellent customer service team to help you whenever needed …
Beautiful 30 Must-See South Of France Places To Visit
 The Best South Of France 10, 7, 5 Days Road Trip MAP INTENTARY & IDEAS
Paris To Marseille – Day 1
Arrival by plane at Marseille airport or arrival by train at Marseille station.
Take your rental car and go to your hotel in Marseille.
Where to choose your hotel in Marseille?
If you have enough time to visit the city of Marseille on the day of your arrival, it is better to choose a hotel close to the tourist sites. A hotel near the Vieux Port would be perfect.
NH Collection Marseille
Located in the new business and leisure district of Marseille, in the 2nd arrondissement, near the Old Port and the Panier, this hotel is ideal for its location in the heart of the city center and therefore close to tourist sites. Its great value for the money when staying in Marseille. Indeed, for 100 euros per night, you can enjoy a hotel with exclusive perks and exceptional service!
If you do not want or do not have time to visit Marseille on the day of your arrival, it is better to take a hotel in a quieter and more secluded place than the city center.
Castle Beaupin
Located in the chic and residential neighborhood of the 8th district and close to a beach, this beautiful house has a small garden, a swimming pool, a barbecue … there is really all you need!
It is truly an exceptional, splendid, and quiet place in Marseille for those who want castle life for one night at the price of a single hotel. Indeed, an apartment for 4 people will only cost you 120 euros per night!
Marseille To Arles – Day 2
For this day in Marseille, 2 choices are available to you:
Visit the city of Marseille (available to pursue by tourist bus for 19 Euros only)
Spend your day cruising in the Calanques of Marseille or Cassis.
At the end of the afternoon, drive to Arles (1h30)
Where To Stay & Where To Go In The South Of France
Which hotel in Arles?
Amphitheater Hotel
OK, it is a little retro but I chose it primarily because it is very close to the amphitheater and the historic center. In addition, it has parking for your rental car. Finally, its price is also attractive: 75 € per night!
Arles To Camargue Avignon – Day 3
8:00 – Drive to Arles (2h) – Arles is a city of art and history classified as World Heritage by UNESCO (Roman heritage). It was the city where Van Gogh lived for a few years and is now the capital of the Camargue.
10:00 – Journey to the ornithological park Pont de Gau (30 minutes) in the Camargue
11:30 – Journey to Aigues Mortes (30 minutes) in the Camargue
12:00 pm – Visit of the city and have lunch in Aigues Mortes
The fortifications of Aigues-Mortes constitute a remarkably well preserved military structure. From the ramparts, you will discover a breathtaking view of the Camargue and the salt marshes whose colors alternate between blue and purple.
14:00 – Sart your ride to Avignon (1h30)
15:30 – Arrive in Avignon
You can visit the Palace of the Popes, a UNESCO World Heritage Site and the largest Gothic palace in Europe, surrounded by impressive fortifications and defense towers. You will be able to walk among others on the famous bridge Saint-Bénezet, the vestige of a very visited medieval bridge that crosses partially the Rhone.
The South Of France Cities To Visit
Stay overnight in AVIGNON
Which hotel in Avignon?
The Vernet
The Vernet is not a hotel per se. It is a beautiful old building with very quiet apartments in the center of Avignon. The apartments are very tastefully decorated and are very functional as well. The parking will be very useful for your rental car.
There, it feels like home. Lola is very friendly and courteous to all your questions. Great neighborhood with good restaurants and many shops. Expect a very small budget: about 80 Euros per night.
Baux de Provence To Gordes Senanque Abbey – Day 4
8:00 – The road trip to the Baux de Provence (takes about 1 hour)
9:00 – Visit of Les Baux de Provence (2 hrs)
Perched on a rocky hill, the Baux-de-Provence is a site classified among the "most beautiful villages of France". Its streets filled with sunlight, squares and shaded terraces make it a beautiful postcard of the villages of Provence.
11:00 – Hit the road to Gordes (1h00)
12:00 – Have lunch in Gordes
1:30 pm – Visit of Notre Dame de Sénanque Abbey and walk in the lavender fields. FYI, the season of flowering lavender is from late June to early July.
14:30 – Drive to Aix en Provence (2h00)
16:30 – Visit of Aix en Provence
Aix-en-Provence, the birthplace of Paul Cézanne, has a certain charm and the architecture of Italian influences are very interesting.
2020 South Of France Family Holidays – 5 destinations tested and recommended!
Night in AIX EN PROVENCE
Which hotel in Aix en Provence?
Aquabella Hotel & Spa
Everything is perfect in this hotel: the room, the breakfast, the bar, the swimming pool, the spa, and especially its location in the historic center of Aix en Provence. And the cherry on top of the cake: there is a parking lot!
Aix en Provence To Verdon Gorge – Day 5
7:00 – Leaving for Moustiers Sainte Marie (2hr -ride)
9:00 – Visit to the village of Moustiers (1h00)
The high point of our beautiful Provence, this place is high perched in the middle of cliffs. The church and the faience museum are fascinating to see, small typical narrow streets and many craft shops …
10:00 – Discover the Gorges du Verdon by taking the road of the peaks of Palud Sur Verdon for about 2 hours
The ridge road is located on the right bank of the Verdon, near La Palud-sur-Verdon. 23 km long, it overlooks the most famous part of the Gorges du Verdon, which is certainly the most beautiful canyon in Europe. Throughout the road, you can admire beautiful cliffs by taking advantage of stops at 14 gazebos designed for this purpose.
12:00 – Drive to Castellane (40 minutes) where you can have lunch.
The British Consulate for southwest France, Bordeaux
Small detour by car (if you have the time):
From Castellane, you can take a 1-hour trip to see the two beautiful lakes (Castillon Lake and Chaudanne Lake).
From the village, take the D955 towards Saint-André-Les-Alpes. Continue along the lake Castillon passing on its impressive dam on which is drawn the largest sundial of the world. About 1 km after the dam, turn right towards Demandolx. Take height by chaining the laces that line the road. A little before the village of Demandolx, turn right again following the direction "La Silve – Castellane".
The descent is by a narrow road (not recommended for RVs) on Lake Chaudanne. Follow Lake Chaudanne and join the intersection with Napoleon Road. Turn right to join Castellane on the D408.
15:00 – Drive from Castellane to Hyères (2h30)
17:30 – Arrival and dinner in Hyères
Worst Paris Ghetto Areas & Dangerous Neighborhoods To Avoid 2020
Night in HYERES
Which hotel in Hyères?
Hotel La Potiniere
Located near Hyères, Hotel La Potinière has its own private beach. This hotel faces the islands of Porquerolles and Port-Cros. Decorated in a typical Provencal style, the rooms of the hotel are functional, comfortable, and peaceful. And of course, this hotel has free parking! So, it is perfect for a relaxing break and lazing on the beach.
Hyères To Porquerolles Cannes – Day 6
8:00 – Go to La Tour Fondue (35 minutes)
9:00 – Take the ferry to Porquerolles Island (15 minutes)
9:15 – Discover the island and relax on the beach
13:00 – Return to Hyères
14:30 – From Hyères, 2 options:
Trip to Saint Tropez (1h30 minimum)
 Go directly to Cannes (1h30).
In summer, there is too much traffic to go to Saint Tropez, the best is to cancel this visit and go directly to Cannes.
16:00 – If option 1, visit Saint Tropez then drive to Cannes (1h30).
16:00 – If option 2, you go directly to Cannes from Hyères and you will have enough time to start visiting Cannes on your arrival.
Cheapest Place To Rent In France – Top 10 Cities
Night in Cannes
Which hotel in Cannes?
Renoir Hotel
This splendid 4-star hotel is a 10-minute walk from the beach. Renoir is located at a 5-minute walk from the Palais des Festivals, the marina, and Rue d'Antibes. Great location to explore the city of Cannes, very friendly staff, comfortable and very fluffy bed, very clean, very good breakfast… There is a private beach nearby. Guests have access to parking nearby.
Cannes To Saint Paul de Vence Nice – Day 7
8:00 – Visit to the city of Cannes
A seaside resort on the French Riviera, Cannes is famous for its international film festival. La Croisette, a chic and elegant boulevard along the coast, is lined with sandy beaches, fine jewelers, luxury shops and palaces.
12:00 – Departure for Saint Paul de Vence (40 minutes)
13:00 – Visit Saint Paul de Vence + lunch
Facing the Mediterranean Sea, backed by the mountains of the Southern Alps, this medieval village is one of the most beautiful on the Côte d'Azur. This little corner of Provence attracts many authors and artists. Sensibilities and talents of the most diverse horizons settle and meet in the many art galleries.
18:00 – Drive to Nice (45 minutes)
19:00 –Dinner in Nice
10+ Famous Buildings Of France Pictures Included
Night in NICE
Which hotel in Nice?
Ellington Hotel
This beautiful hotel is located in the heart of a residential area close to everything: train station, place Masséna, downtown, old Nice, the Promenade des Anglais, beach, good restaurants…
The Ellington Hotel has the charm of old buildings with all the comforts of a modern hotel. The welcome is always warm and courteous. A hearty breakfast with lots of choices and fresh fruit is served in a beautiful setting (beautiful patio). As for the room, the sanitation is impeccable. This hotel is really a good choice to visit and enjoy Nice!
Nice Eze Monaco Menton – Day 8
9:00 – Nice – Eze route (30 minutes)
9.30 am – Visit the pretty village of Eze
This beautiful hilltop village overlooking the peninsula of Saint-Jean-Cap-Ferret offers a remarkably preserved medieval architecture. The alleys lined with vaulted houses with many shops of artists and artisans give this village a special atmosphere of authenticity and traditions.
11:00 – Drive to Monaco (30 minutes)
11.30 am – Visit Monaco and have lunch
Monaco is an independent state with the official name of the Principality of Monaco. It is located 24 km from Nice, bordering Cap d'Ail, Roquebrune-Cap-Martin, and Beausoleil. You will discover the history of Grimaldi going from the old city (real open-air museum) to the place of the Casino.
16:00 – Drive to Menton (45 minutes)
17:00 – Arrive at Menton
Here is a place where nature and culture marry harmoniously. City of gardens, city of lemons but also a City of Art and History, Menton is rich in an exceptional natural and historical heritage. Cornices, you can admire a landscape of postcard, that of a city resting on the sea!
19:00 – Return to Nice (45 minutes)
10 France Off The Beaten Path Tours
Nice, capital of the Côte d'Azur, has preserved this indefinable charm since its cosmopolitan past. This city has become a pole of tourist excellence with a lifestyle and local culture well preserved on the walls and on the plates!
Go from Nice to Marseille (3h00)
Visit Marseille if you have enough time
Stay overnight at MARSEILLE near the airport or train station to save time the next day for your return to Paris.
16 Most Beautiful Towns In France
Where to choose your hotel in Marseille?
Hotel Ibis Marseille Provence Airport
The Ibis is ideal if you want to spend a night near the airport for a small price (55 euros). Located 400 meters from Marseille Airport, this hotel offers a free shuttle service from 05:00 to 24:00. There is also free parking. Ibis Hotel offers a grill restaurant and a bar. Guests are welcome to use the outdoor pool.
25 Best Place To Visit In French Riviera
Holiday Inn Express Marseille Saint Charles
Very good location if you want to stay a night near the train station and the historic center of Marseille. Indeed, this hotel is located right in front of the main train station, the metro, trains, and a car rental service within 50 meters. Quiet area, safe and with some nice little restaurants, cafes, and supermarkets nearby. This hotel has an underground garage. Its price is very attractive (70 euros).