Montmorillon, Vienne, France
Montmorillon, Vienne, France Geography and Transport Links
Montmorillon is a Medieval town situated in the South-Eastern corner of the Vienne Department (commune area 57km2), close to the borders with Haute Vienne (Limousin) and Indre (Centre), at an altitude from 82m to 168m.  It is close to the RN147 that runs between the Regional Capital Poitiers and Limoges.  There is a regional rail link here, and further services (such as the TGV) can be reached through Poitiers Gare (45mins).  The picturesque Gartempe River runs through the town.  The nearest commercial airport is at Poitiers Biard (60km) with seasonal flights to the UK.  Limoges Bellegarde airport is also an option (82km) with a wider range of year-round services.
See also: Lathus-St Remy
Montmorillon, Vienne, France Climate
The weather here is maritime, and therefore temperate with clearly defined seasons.  Average Summer temperatures are between 23C to 26C (11C-13C night), and in Winter this drops to 8C to 9C (2C night).  As with much of Poitou Charentes, the Autumn can be warm, with average temperatures in Sept of 22C and Oct 17C.  However, October and November are usually the wettest months.  Montmorillon is within an area that receives between 1750 and 2000 hours of sunshine per year.
Tourism In Montmorillon, Vienne, France
Known as the Cite de l'Ecrit [City of Writing], Montmorillon prides itself as a 'book town' and hosts a bi-annual Selon du Livre [Book Festival].  The old Brouard quarter of the town was restored in 2000, and the medieval buildings let out to booksellers, craftsmen, artists and experts in ancient books.  A key historical site to visit is La Maison Dieu, an 11th Century Hospital Monastery including  Chapelle Saint-Laurent and L'Octagone the 12th Century funerary crypt.  Nearby at Lathus, the Centre du Plein Air offers fishing, kayaking, horse riding, and orienteering.  Also close by is the L'Isle aux Serpents [Snakes Island], the Val de Vienne racing circuit.  The town is home to the macaroon biscuit [with almonds), and there are a museum and shop dedicated to the subject at the Rannou-Metivier House.   There is a huge market at nearby Les Herolles on the 29th of each month.
Montmorillon, Vienne, France Economy
Montmorillon is part of the Montmorillon economic zone, which has an unemployment rate of 6.7%, compared against the regional rate of 8.6% and the national rate of 9.1% (INSEE 2006).  The biggest businesses in Montmorillon are SUVIGA (Hyper U supermarkets) and COVIMO (abbatoir).
Montmorillon, Vienne, France Facilities
The town has an indoor swimming pool, and other facilities include tennis and gymnastics.  The local football club (UESM) has teams for all ages (6+ to Veterans).  Not far away at Lathus is a large equestrian center, and at Civaux is an aquatic center.  There are over 10 restaurants in the town and a Cinema (La Majestic).  The town has 2 libraries, 4 pharmacies and a choice of over 9 Doctors.
Education In Montmorillon, Vienne, France
There is a choice of 3 state Nursery/Primary schools, 1 state High School (College), and 1 state College (Lycee).  In addition, there is a private option up to High School age, through the Catholic Institution Saint-Martial.  There are a number of options at the Lycée level, with a number of professional (such as agricultural) colleges available.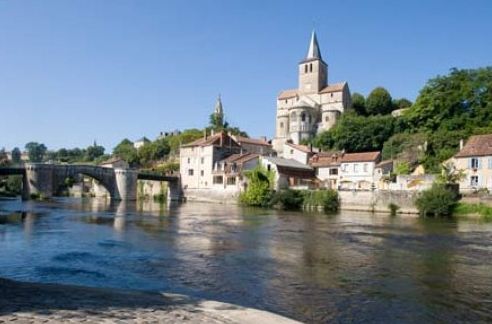 Montmorillon, Vienne, France Key Stats
84.1% of properties here are classed as primary residences, with 4.4% classed as second homes.  There are more females than males resident here (52.9%), and there are more people aged 60 or over than the national average (28.7% vs 21.3%).  There are more retired people here than against the national average (24.9% vs 18.2%).  22.4% of the population is below the age of 19.
Key Facilities and Services In Montmorillon, Vienne, France
| | | |
| --- | --- | --- |
| Supermarkets | Hairdressers | DIY Store |
| Bakers | Banks | Swimming Pool |
| Butchers | Pharmacies | Dentists |
| Bar/Tabacs | Library | Doctors |
| Restaurants | Post office | Cinema |
| Cafes | | |