Moving to France can be an exciting adventure, but it's important to make sure you have all of your ducks in a row before making the big move. From visas and language barriers to cultural adjustments and finding a place to live, there are a lot of details to consider when relocating to one of the most beautiful countries on earth.
Checklist for Moving to France
With this in mind, we've put together a comprehensive checklist for moving to France that will help ensure your transition is as smooth as possible. Whether you're planning a temporary stay or looking to make France your permanent home, this guide will provide valuable insight and essential tips for making the most of your time in this stunning country. So pack your bags, grab your passport, and let's get started!
Determine Job Location and Choose Living Area
To successfully move to France, it is essential to determine your job location and choose your living area. This will heavily depend on your work situation, as well as your personal preferences for lifestyle and cost of living. Research various regions and cities to figure out which areas best suit your needs and budget. Consider proximity to transportation, access to necessary amenities, and the cost of housing. It is also important to consider how long your commute will be if you have to travel for work.
Once you have identified your preferred living area, it is crucial to secure a job location before you move. Job opportunities vary in different regions, and it is easier to find work in some areas than others. If you are moving for work, make sure to communicate with your potential employer about what assistance they can provide in finding housing in the area.
Additionally, it is beneficial to learn about the culture and language of your chosen living area to make the transition easier. Familiarize yourself with local customs and traditions, and try to connect with the community before you move. This can give you access to invaluable resources and support.
By carefully considering your work location and living area, you can set yourself up for a successful move to France. Ensure a smooth and hassle-free relocation by properly researching and planning beforehand.
Open a French Bank Account and Check Money Withdrawal Options
To make a smooth transition to life in France, it is important to open a French bank account and acquaint oneself with the available money withdrawal options. The process of opening a bank account requires three documents: proof of identity, proof of residence, and attestation of enrolment or a student card. Residents can expect a relatively seamless process, however, some French banks may not offer full banking services. Those who are moving to France from abroad should take this into consideration and consider transferring their existing account.
When it comes to withdrawing money, it is typical to receive a cash withdrawal card with each account. Nevertheless, it is advisable to check with the bank for any specific charges and conditions that may apply.
Having a French bank account is key to handling everyday tasks such as receiving utility bills and registering for a Carte Vitale. Foreigners with valid visas or residence permits can easily set up a bank account to ensure they can fully participate in their new lives in France.
In addition to opening a bank account, there are various other considerations to make before moving to France. These include determining job location, exploring international standards for decent work, and finding suitable living arrangements in a desirable area. If joining family members, there may be additional requirements to take into account. Knowledge of these considerations will make the transition process a smooth one.
Ensure a Valid Visa or Residence Permit for Skills and Talents
To ensure a successful move to France, it is essential to have a valid visa or residence permit that allows you to work legally in the country. One of the most popular permits is the "passport talent" residence permit, designed for high-skilled workers and self-employed individuals. To apply for this permit, you will need a valid work contract or a binding job offer in France.
To start the application process, visit the France Visas website and complete the application form, providing all required supporting documents. You will be required to attend an interview at your local consulate, so ensure that you schedule this in advance. It is recommended to start the application process as soon as possible as it can take a few months for the permit to be issued.
Having a valid passport is also a crucial requirement for moving to France. Ensure that your passport has been issued within the past ten years and has a minimum of three-month validity beyond your intended stay.
In addition to having a valid visa or residence permit, it is essential to consider the post-Brexit changes for UK citizens moving to France. Ensure that you are eligible for work visas and residence permits and have all necessary documentation before making the move.
By following these steps and staying up-to-date on the latest visa and permit requirements, you can ensure a smooth transition to living and working in France.
Explore International Standards for Decent Work in France
When moving to France, it is important to consider the international standards for decent work. The International Labour Organization (ILO) has set standards to promote fair and decent work for men and women all over the world. To ensure that your work in France aligns with these standards, it is crucial to do your research and understand the labor laws in the country.
One way to explore these standards is by visiting the official website of the French government. The website provides information on labor laws and regulations, as well as resources for job seekers and employers. Additionally, it is recommended to consult with a legal professional or seek assistance from organizations such as the ILO or the European Commission.
By exploring the international standards for decent work in France, individuals can ensure that their employment is fair, safe, and equitable. This includes fair wages, safe working conditions, and protection against discrimination. Obtaining decent work not only benefits the individual, but also contributes to sustainable development and the overall well-being of society.
It's important to note that adherence to international standards for decent work is not limited to the workplace. It extends to all aspects of society, such as education, healthcare, and social services. Understanding and promoting these standards can contribute to a better quality of life for all.
As part of your checklist for moving to France, take the time to explore the international standards for decent work. By doing so, you can ensure that your work aligns with these values and contributes to a better future for everyone.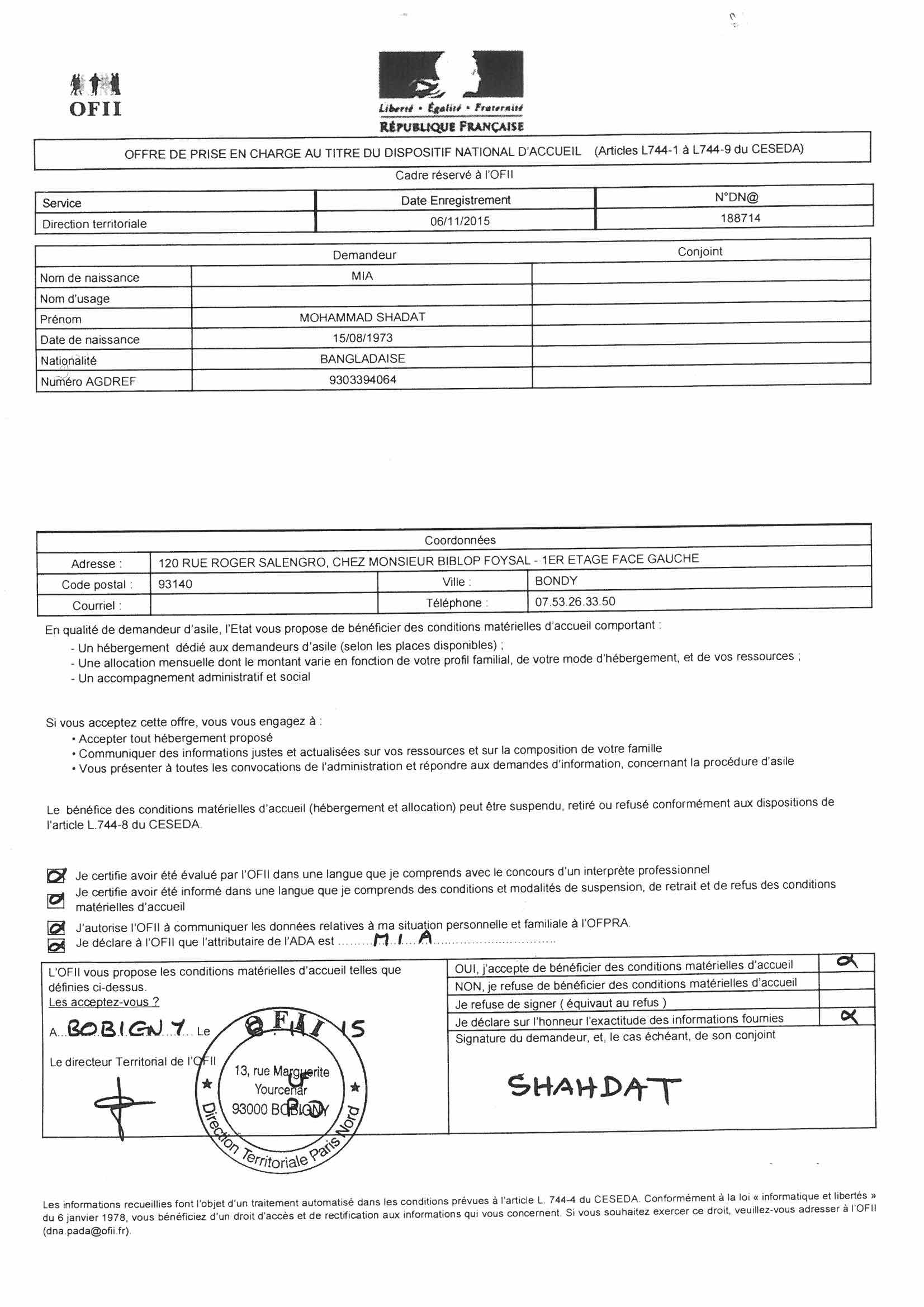 First Reception Center for Asylum Seekers (Spada)
Moving to France requires careful planning and preparation, especially if you are seeking asylum. The First Reception Center for Asylum Seekers (Spada) is the first point of contact for those seeking asylum in France. To apply for asylum, one must first address themselves to the Spada, which stands for "Structure de Premier Accueil des Demandeurs d'Asile", an Initial Reception Establishment for Asylum Seekers. At Spada, you will be pre-registered for an appointment at the single desk. However, it is important to note that Spada's phone line is often occupied, so it is advisable to keep trying every day until you successfully book an appointment.
If you are granted refugee status by OFPRA, you will receive a residence permit that is valid for 10 years and is renewable. The next step is to apply for a permit at the prefecture. Asylum seekers must also meet International Standards for Decent Work in France and explore job opportunities to support themselves. One must also ensure a valid visa or residence permit for skills and talents, open a French bank account, and check money withdrawal options.
If you are a French citizen abroad, it is essential to know voting options and make a Power of Attorney for voting at the Consulate General. Family joining and considerations for long-term stay must also be taken into account. For those moving to another EU country, it is important to research the European Union's efforts to promote better living in France. By following this checklist for moving to France, including seeking refugee status at Spada, one can ensure a smooth transition to life in France.
 Considerations for Family Joining and Long-term Stay
Considerations for Family Joining and Long-term Stay require careful planning and attention to detail. It is important to ensure that family members have the appropriate visa or residence permit, as well as access to healthcare and education.
In order to facilitate a smooth transition, it may be necessary to enroll family members in French language classes and to provide them with information about local customs and traditions.
Long-term stay options may include applying for permanent residency, or for citizenship if eligible. It is important to consult with a qualified immigration lawyer and to ensure that all necessary documentation is in order. Proper preparation will help to ensure a successful move and a smooth transition for all family members.
European Union Efforts to Promote Better Living in France
The European Union is committed to promoting better living conditions in France. France and Germany are working together towards improving collaboration within the EU for a better future. The EU has implemented various initiatives aimed at promoting social and economic development in France.
As a British citizen moving to or living in France, it is essential to keep yourself informed about ongoing EU initiatives. These may aid in making your transition to living in France more comfortable and more enjoyable. By staying up to date with EU policies, you can also have a better understanding of the social, economic and political landscape in France, as well as its relationship with the EU.
Some of the initiatives implemented by the EU in France include support for entrepreneurship, promotion of equal opportunities, and support for educational and cultural initiatives. As such, it is crucial to take advantage of these initiatives when making your transition.
It is also crucial to note that France is a member of the Schengen Area, meaning that all third-country nationals entering France must comply with the EU's entry conditions. This includes ensuring that they have the appropriate visa or residence permit.
By considering all the necessary steps and taking advantage of EU initiatives, you can make your move to France smooth, stress-free, and enjoyable. With proper research and planning, moving to France can be a pleasurable and exciting experience.